Teresa Palmer Is Number Six In I Am Number Four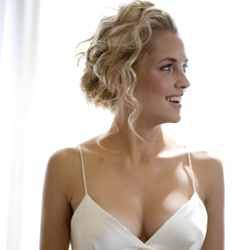 Right now, I'll be honest, Teresa Palmer looks pretty much like any other pretty blond Australian import. She's been snagging steady movie roles since 2005, but since they've mostly been in movies like The Grudge 2 and Bedtime Stories, I haven't caught them. But Palmer has seem on the verge of her big moment for a while now, and now she's adding strength to her Next Big Thing status. THR reports that she has signed on to play one of the refugee aliens in I Am Number Four.
An adaptation of an upcoming sci-fi novel by James Frey and Jobie Hughes, Number Four already stars Alex Pettyfer as the titular alien refugee, and Sharlto Copley as Pettyfer's "guardian and mentor" (human? alien? who knows!) Palmer's character is known as Number Six, and while it's not a guarantee that she'll be Pettyfer's love interest, come on. Pretty alien boy? Pretty alien girl? Both of them refugees on the same planet? That's how love connections are made.
Your Daily Blend of Entertainment News
Staff Writer at CinemaBlend