Terminator: Genisys Is Still Somehow Making A Fortune, Here's How Much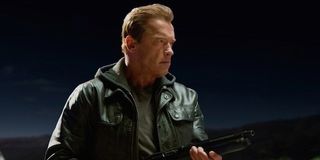 The latest installment of the franchise may have been a dismal failure stateside, garnering brutal reviews and less than stellar box office receipts, but globally, Terminator: Genisys has received a much warmer public reception. In fact, in little-engine-that-could fashion, it has just kept right on chugging, and now it has climbed into the 2015 box office top ten worldwide.
According to Box Office Mojo, Terminator: Genisys has now surpassed the $440 million mark at the international box office, which is good enough for the tenth slot, not bad after what was a banner summer at the movie theater overall. That total places it ahead of movies like Kingsman: The Secret Service, Marvel's latest Ant-Man, the animated Home, and George Miller's action opus Mad Max: Fury Road.
Only just over $89 million of that total came from the U.S., while the remainder was accumulated elsewhere. The movie killed it at the box office in China, where it picked up more than $27 million its first day, and it was met with equally open arms elsewhere as well.
Given the films that are still on the way, bar some miracle, Terminator: Genisys isn't going to finish out the year in the top ten. We still have movies like the next James Bond adventure, Spectre; the final chapter in The Hunger Games saga; and, of course, a little movie called Star Wars: The Force Awakens, and a few others, that will likely unseat it.
Still, for a movie that looked like the last nail in the coffin of the franchise, it's not a bad position to be in. It certainly goes to show the increasing importance and power of the international market to drive films, especially big studio productions with name recognition, but that begs the bigger question of what does this mean for the franchise in general?
Terminator finds itself in a similar position to Pacific Rim a few years ago, where it looked like a franchise dead in the water, but gradual support from outside the U.S. eventually made it a ton of money. Could this mean a sequel might happen? Before Genisys, the talk was that this was going to be the first in a new trilogy, and the film certainly left things open ended on that front. The plan was to shoot two movies back-to-back for release in 2017 and 2018—the rights revert back to franchise originator James Cameron in 2019—but given the still relatively modest reception, that might be a wee bit ambitious, not to mention pricey.
We'll have to wait and see on that front, but one thing this tells us is that, while his box office drawing power may have diminished in the U.S., Arnold Schwarzenegger is still a force to be reckoned with overseas.
Your Daily Blend of Entertainment News