Terrence Howard Left Iron Man 2 Because They Would Only Pay Him $1 Million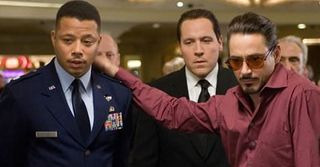 Casting is a tricky process, even more so when you're talking multiple-picture deals for an aspiring franchise. When superhero movies began booming again, Terrence Howard seemed poised to stick with the Iron Man movies, having deftly played Tony Stark's oft-conflicted, ever-stern friend Rhodey in the first film. But when casting news came out on Iron Man 2, we were shocked to learn Howard had been ousted in favor or Don Cheadle. (Who we love, so it was a confusing time!)
And we weren't alone. At the time, Howard described the move as "the surprise of a lifetime," revealing he'd heard about the change-up through the press, not a call from Marvel Entertainment. Ouch. You'd think after that he'd have an axe to grind, but while promoting his new movie Dead Man Down on the radio show Sway in the Morning (via Total Film), he was pretty forthcoming and surprisingly not bitter.
Howard claims Cheadle was always the studio's first choice, so when it came time to cast Iron Man 2, they basically offered Howard a deal he could refuse. Paid $4.5 million for the first film, his contract suggested he'd get $8 for a sequel. However, he explains, "The second time, [the studio] said, 'We think the movie will be successful with or without you. So, instead of the $8m that we said we were gonna' pay you, we're going to let you come back for a million dollars.'"
Having signed a three-picture deal, Howard thought he was guaranteed a part in the next two Iron Man movies, but he admits:
So, don't worry about Howard. He's good. Better than good. He's making diamonds, which beyond being incredible sounds like something that would work into an act of an Iron Man movie. And he harbors no hard feelings toward Cheadle either, saying, "Really, initially they wanted Don in that role, but my agent pushed me in. So I never had any beef with Don about it." Dead Man Down is now in theaters.
You can see the interview in full below: (Jump to around 3:46 for the Iron Man section.)
Your Daily Blend of Entertainment News
Staff writer at CinemaBlend.