Terry O'Quinn Rumored For Lex Luthor In Batman Vs Superman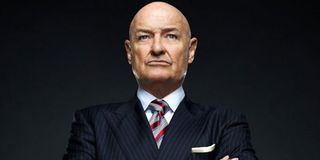 Talk of a Superman movie inevitably spurs rumors about Lex Luthor involvement, and the latest of these has Lost's Terry O'Quinn at their center. Well, he is an older white man rocking the bald look with some serious glower power. Superman Super Site (via JoBlo) says sources close to the production being mounted in Detroit MI--which will serve as Gotham City in the Man of Steel sequel, Batman vs Superman--say O'Quinn is on director Zack Snyder's short list for the role of Luthor. But SSS itself says to take this rumor with a grain of salt.
At a live fan event, Snyder himself has confirmed Luthor will appear in Batman vs Superman. But when it comes to who might play the part, he's been understandably tight-lipped. In August, Bryan Cranston was rumored for Luthor, but the Breaking Bad star was quick to shoot that down, though not before fans came up with a spec trailer. Still, considering he'd spent years playing a critically adored and fan-loved villain, this casting possibility made sense. But if we look back even farther, the Luthor rumors get stranger and stranger.
Back in June of 2011, Christopher Meloni was attached to Man of Steel in an unknown role, which had people frantic that it would be Luthor. Ultimately, it was just a military general. By January of 2012, we'd all resigned ourselves to a Superman movie minus Luthor's presence, but then a new rumor arose that put The Hangover's Bradley Cooper as the bald baddie for Man of Steel. Of course, this too proved false. So really, when it comes to this masterfully malevolent character, not even his casting rumors can be trusted.
But let's imagine for a moment that O'Quinn is actually being considered. As I said up top, it makes a certain level of sense. He does look the part. And he's had a long history of playing villains, from the 1987 horror-thriller The Stepfather to his recent turn as a devilish deal-maker in the short-lived drama series 666 Park Avenue. But Superman fans, what say you?
This poll is no longer available.
Should this rumor prove true, O'Quinn could join a cast that includes Henry Cavill as Superman, Amy Adams as Lois Lane, and Ben Affleck as Batman. Also said to be up for Batman Vs Superman is Girls's Adam Driver as Nightwing, while Quantum of Solace's Olga Kurylenko, G.I. Joe: Retaliation's Elodie Yung, and Fast & Furious 6's Gal Gadot are rumored to be duking it out for the coveted role of Wonder Woman.
Batman Vs Superman will hit theaters on July 17th, 2015.
Staff writer at CinemaBlend.
Your Daily Blend of Entertainment News
Thank you for signing up to CinemaBlend. You will receive a verification email shortly.
There was a problem. Please refresh the page and try again.