There's A Bidding War Over Serial Because It's So Hot Right Now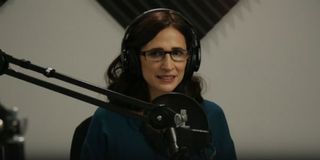 If you are reading this article right now, and therefore use the internet, it's almost a guarantee that you've at least heard of the podcast Serial. Whether or not you listen to it is another story, but the podcast itself was number one on iTunes for weeks, spurred multiple parodies, SNL skits, and has been characterized as a whole new genre of storytelling. And although some listeners have feared losing out on the magic of the podcast by taking it out of its audio form, Hollywood sees Serial's popularity as opportunity, and several studios are in a bidding war to turn the podcast into a TV show or movie.
Serial's producers originally had stated that they had no interest in selling the movie rights, but after the final episode aired, a bidding war began. According to Tracking Board there are several studios trying to get their hands on the rights to the story. First there was Tristar TV after the property, then apparently Ryan Murphy was close to developing it for a limited HBO run, but also Warner Bros. wants the property to adapt into a feature. It will most likely come down to HBO and Warner Bros., unless other studios start showing up to bid. Warner Bros. already has a relationship to the podcast, since they had a first-look deal with This American Life years ago, and Serial is a spin-off of the Ira Glass podcast. But a Ryan Murphy series might be too good to be true, and recently Variety's Pat Saperstein tweeted that it was just a rumor that HBO/Ryan Murphy were in the mix.
Serial explores the investigation of a 1999 murder case in Baltimore. The narrator and journalist who presents the podcast, Sarah Koenig, was contacted by a friend of the man who was indicted for the murder of his high school ex-girlfriend, Hae Min Lee. At the time, Adnan Syed, the former boyfriend, was 18 years old, and eventually was found guilty, serving a life sentence. In the podcast Koenig consistently chats with Adnan from calls he places from the jail. The podcast explores the holes and gaps left in the prosecution, and all the while the listener tries to determine whether or not Adnan Syed was guilty, or if he had any help from other explored character.
It is truly an interesting way of storytelling, because while it is all non-fiction, it's not exactly investigative journalism. There is some sort of surreal element to it, where you do feel like you get to know these people personally. It runs like a TV series already, but without any visuals, which is what makes it so cool. And Koenig crafts it very well. She refers to the persons involved on a first name basis, she admits her own defeats and confusions on subjects. She brings us along for her ride. It may be strange to have anyone else tell the story other than Koenig. It is her podcast, and that's what makes it so great, we are told the story by her, get to know her personal feelings on subjects, and go along with her to discover new aspects of the case.
While as a fan of podcasts and believing that certain stories don't need visual aid, I am not necessarily thrilled about the property to Serial being sold, it is to be expected. The extreme popularity that it generated, from a free, brand-new podcast was incredible. And of course, Hollywood knows that even if we wish it would just stay put in its original form, we'll still tune in to watch it come to life elsewhere.
Your Daily Blend of Entertainment News
Thank you for signing up to CinemaBlend. You will receive a verification email shortly.
There was a problem. Please refresh the page and try again.