Warner Bros. Being Sued Over Gravity, But By Whom?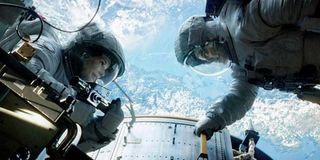 Lawsuits between screenwriters and the studios that "rob" them are no surprise. When a movie hits it big, there's bound to be a couple of lawsuits trying to cash in on something that sounds similar enough to stick, but different enough to not have a chance. However, Warner Brothers is now starting to be named in what might be one of the most ridiculous lawsuits ever, and it's at the hands of a best-selling author with a long held ambition to see her work on the big screen.
The New York Times pushed a story about a lawsuit being launched by author Tess Gerritsen, who is better known for her hit book/TV series Rizzoli and Isles. (Coincidentally, Warner Horizon Television is the studio that produces said television show.) Her lawsuit is focused on what she's not very well known for, which is a 1999 novel she published by the name of Gravity. Ms. Gerritsen claims that Warner Brothers has robbed her of "2.5 percent from the film's net profit" with a film that's "at least partially based" off of her same-titled novel.
To begin to understand the claim that the author is making, we must first understand the material. Since everyone and their mother knows what Gravity is about, we'll focus on the official Amazon synopsis (opens in new tab) of the Tess Gerritsen novel, which goes something like this:
Anyone who's read the book will tell you that the story's main thrust is pretty far off from the movie's plotline. Sandra Bullock's character, Dr. Ryan Stone, is only on each of the space stations she boards for temporary periods of time. The whole time she's focused on getting home, and not racing against the clock to fight a deadly virus. Even Gerritsen herself initially wrote off the claims of similarities between her project and Alfonso Cuaron's project, which was starting development at Universal Studios. An excerpt from one of her blog posts in 2010 reads as follows:
To be fair, she does mention that Gravity producer David Heyman is a common link between Cuaron (who directed the Heyman-produced Harry Potter and the Prisoner of Azkaban) and screenwriter Michael Goldenberg (who wrote the later installment of the series, Harry Potter and the Order of the Phoenix, and was signed to adapt her novel when it was optioned.)
Tess Gerritsen then goes on to establish a factual thread she would continue to support as late as last October, a thread which conflicts with the New York Times' report that the rights were in the hands of New Line Cinema since 1999. In a Tweet she issued the Monday after Gravity had achieved the biggest October opening weekend ever:
So Tess Gerritsen is on the record, as recently as last October, stating that the rights to her book were in the hands of 20th Century Fox, and she was anxious for her story to be told on the big screen. Just what changed her mind on the whole matter? Her lawyer, Glen L. Kulik, who according to the NYT article:
This claim is further clarified in her official statement, which is also posted to her blog:
Knowing what we know, Michael Goldenberg is the only person that would have been familiar with her novel in its developmental phase, and by her process of deduction, Goldenberg and producer David Heyman might have talked about the project together. It's more than likely, Mr. Heyman is the "culprit" that Ms. Gerritsen's suit will be naming, if he's ever named outside of the legal proceedings. The information being withheld at this time will be key to understanding just why this case might have relevance, but with the facts in front of us at the moment it looks like this case won't be a long one.
If anything, Tess Gerritsen had ample time to gain access to Alfonso Cuaron's project, so as to determine whether or not it infringed the integrity of her project. It's not as if she realized overnight that she had a possible claim against the project. She stated so in her own words as the project was gearing up. Her timing feels like an attempt to cash in on the amazing success of the Academy Award Winning, high grossing success that is Gravity, and it's a shame that the author of what was a pretty good book can't see that her time is better spent pushing for active development of her own property. If anything, Emma Watson has a better chance of suing Tess Gerritsen for use of her name in the novel than Gerritsen does of suing the studio over their product.
Your Daily Blend of Entertainment News
Senior Movies Contributor
CinemaBlend's James Bond (expert). Also versed in Large Scale Aggressors, time travel, and Guillermo del Toro. He fights for The User.
Your Daily Blend of Entertainment News
Thank you for signing up to CinemaBlend. You will receive a verification email shortly.
There was a problem. Please refresh the page and try again.