Thor Begins Swinging His Hammer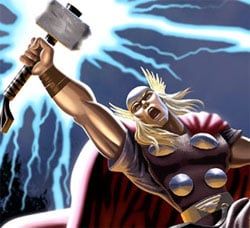 Marvel Studios announced today that Thor has begun principal photography. I guess the loss of Stuart Townsend wasn't exactly a crushing blow. If only they'd replaced him with Viggo Mortensen.
Nearly as hilarious as Townsend's last-minute departure from yet another movie is the one-liner delivered by Dark Horizons head honcho Garth Franklin while covering this same story on Twitter: "Thor Begins Principal Photography - sadly no pics of Portman 'feeling the thunder' as it were." If only.
Here's the full, official press release from Marvel announcing the start of most marginally anticipated upcoming superhero movie:
Your Daily Blend of Entertainment News
Thank you for signing up to CinemaBlend. You will receive a verification email shortly.
There was a problem. Please refresh the page and try again.