Tim Burton Considers Eva Green For Miss Peregrine's Home for Peculiar Children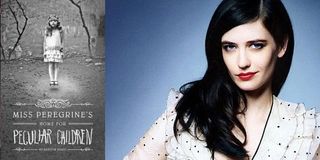 From the haunted Vanessa Ives of Penny Dreadful to the fearless warrior Artemisia of 300: Rise of an Empire and the psychotic sexpot Angelique Bouchard of Dark Shadows, Eva Green is an actress who revels in the dark dance of macabre characters. So it should come as little surprise that she's said to be circling the title role in Tim Burton's in-development adventure Miss Peregrine's Home for Peculiar Children.
Variety reports that Eva Green has entered into talks to headline Tim Burton's Miss Peregrine's Home for Peculiar Children, which Chernin Entertainment is producing. Adapted from the novel by Ransom Riggs, this movie is eying a production start date of February 2015. So Burton and his producers are likely eager to start locking down talent.
Should she sign on, Green would be reteaming with Burton for the first time since Dark Shadows. While critics appreciated her willfully campy portrayal in that big screen adaptation of the beloved television series, the film itself was reviled. Our own Eric Eisenberg said of it, "The movie is completely tone deaf – unsure if it's a horror movie, a comedy or a drama – and never finds anything interesting in the characters for the audience to latch on to." Audiences seemed to concur. They largely shunned the Johnny Depp-fronted feature, so that the $150 mil production pulled in just $79 million domestic. And after an expansive ad campaign, the additional $165 mil it made overseas still marked Dark Shadows as a dud.
So, that leaves us wondering if Eva Green would want to reteam with Tim Burton. It might well depend on how meaty the role of Miss Peregrine is in the movie; in the book her role is at best a supporting part.
The novel Miss Peregrine's Home for Peculiar Children centers on 16-year-old Jacob Portman, who has long been enchanted by his grandfather's stories of the titular orphanage for unusual youngsters. After his grandfather is bizarrely murdered, Jacob treks to Wales to track down this Home for Peculiar Children. There he meets a batch of kids with incredible powers. But there's more to the world than these wondrous children, there's a dangerous band of monsters whom desperately wish to find these peculiarities. Jacob, entangled in their dilemma, may well be their only hope.
I've read Ransom Riggs' book, and honestly it reads like a book being written solely to sell the movie rights. The prose is underwhelming. The story is sloppy. And the book even includes "photos" of the children, as a sort of proof of concept. So when it was first reported Tim Burton had bought the rights, I was less than thrilled. Burton's not exactly the groundbreaking storyteller he once was, and by my count Miss Peregrine's Home for Peculiar Children needs some serious revisions to make it a compelling screenplay.
In early 2012, Jane Goldman (The Woman In Black) was hired to pen the script, which was a hopeful sign as she's also helped adapt engaging adventures like Stardust, Kick-Ass and X-Men: Days of Future Past. But no mention is made of her in the Variety article, so it's unknown if her script is still on the table. And with Burton directing, it's hard for me to be enthusiastic. So as an admirer of Eva Green, I'm hoping she steers clear.
We'll give you more on the casting of Miss Peregrine's Home for Peculiar Children as it develops.
Your Daily Blend of Entertainment News
Staff writer at CinemaBlend.
Your Daily Blend of Entertainment News
Thank you for signing up to CinemaBlend. You will receive a verification email shortly.
There was a problem. Please refresh the page and try again.