Timothy Olyphant And Ben Schwartz Join Tina Fey In This Is Where I Leave You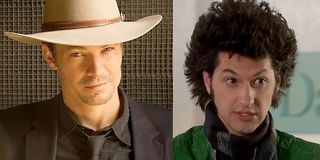 Have you ever read a book that made you laugh so hard you couldn't breathe? That was my experience reading Jonathan Tropper's darkly funny novel This is Where I Leave You. I read it on a summer vacation in which one by one each member of my family broke out into an all-consuming laughter that made another demand to read the book next. So, as you might imagine, my hopes are high for its movie adaptation.
Adapted by the author and helmed by Date Night director Shawn Levy, the story centers on a Jewish family that's never been very observant of their faith's traditions, but is forced to sit Shivah when their late father unexpectedly requests it on his deathbed. So, the far flung family reconvenes to mourn. And over the course of a week where they must stay in close quarters with each other, they are faced to confront sibling rivalry, regret, and resentment. Despite all odds, the results are hysterical.
The cast Levy's been building is already incredible, boasting Jason Bateman, Tina Fey, Corey Stoll, Jane Fonda, Adam Driver, and Rose Byrne. And it's only getting better. Deadline reports Justified's Timothy Olyphant and Parks and Recreation's Ben Schwartz have signed on, playing an old friend of Fey's character and the local rabbi respectively.
Schwartz is most recognizable for playing the always-outrageous Jean-Ralphio on the acclaimed sitcom, but will likely offer a more subdued comedy styling here. While a promising addition to this comedy ensemble, I'm most excited about Olyphant's inclusion.
Best known for dramas like Justified and Deadwood, Olyphant has shown he has a sharp sense of humor with turns in the spy spoof Archer and the twistedly funny thriller A Perfect Getaway. In This is Where I Leave You he'll tackle the tricky role of Horry, the high school sweetheart and old next-door neighbor of Fey's character Wendy. Wendy and Horry once seemed destined for a happy ending until a horrible accident resulted in him getting a devastating brain injury. In the hands of a less thoughtful actor, this role could prove disastrous. But I'm confident Olyphant will not only offer a poignant yet funny performance, but also prove a great scene partner for Fey, as she continues to grow as an actress.
Your Daily Blend of Entertainment News
Staff writer at CinemaBlend.
Your Daily Blend of Entertainment News
Thank you for signing up to CinemaBlend. You will receive a verification email shortly.
There was a problem. Please refresh the page and try again.