Tina Fey Begged For An Audition For A Big-Budget Musical, It Didn't Go Well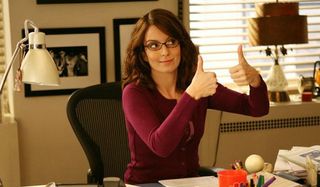 It doesn't matter if she's in the lead role in a film or television show, is merely providing a cameo, or is hosting an awards show, Tina Fey's insatiable wit means that you're always on the precipice of laughing whenever she emerges. But even Tina Fey's innate comedic talent couldn't land her a role in Into The Woods, a project for which she actually pleaded to get an audition. In fact, the 30 Rock actress has admitted that auditioning in front of Rob Marshall, in the director's own home no less, was a somewhat traumatic experience.
Tina Fey recalled her embarrassing Into The Woods audition while talking to her good friend Damian Holbrook as part of the Tribeca Talks: Storytellers series at the 2016 Tribeca Film Festival, insisting that her pursuit of the part came during a "weird year" between the end of 30 Rock and the start of Unbreakable Kimmy Schmidt where she tried to stretch herself. Fey explained:
As much as we'd all probably adore a solo concert from Tina Fey in the comfort of our own home, Rob Marshall was obviously unmoved by her performance as it failed to land the beloved actress/comedian/host/writer/producer/showrunner/all-round-obscenely-talented woman the part in the musical.
While Tina Fey didn't go into specifics about the role she went for, I'm going to predict that she went for either The Witch or The Baker's Wife, parts that were ultimately given to Meryl Streep and Emily Blunt, respectively. Obviously there's no shame in being beaten to these roles by these formidably talented individuals, especially since Meryl Streep went on to claim yet another Oscar-nomination for her work in the fantasy musical.
Into The Woods fared rather well without the presence of Tina Fey, too. Not only did it amass the highly respectable score of 71% on Rotten Tomatoes, but it also went on to gross over $213 million at the box office. It also means that there's still room for Tina Fey to have a whack at her very own musical. Something that's coming on Broadway in the shape of her Mean Girls adaptation. Unfortunatey we're still waiting for news of her big-screen entry into the genre. For now.
Your Daily Blend of Entertainment News