Tina Fey May Help Adapt Fancy Nancy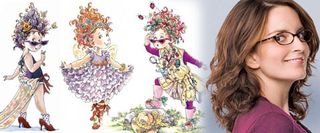 When news first broke that Fox had brought Night of the Museum helmer Shawn Levy on board to produce their adaptation of the beloved picture book series Fancy Nancy, I voiced concern that Levy, whose last directorial effort was the testosterone-fueled action flick Real Steel, was not the best choice to translate the decidedly girly material. It seems I'm not alone on this, as Entertainment Weekly has uncovered Fox is in talks with Tina Fey, hoping to have her help develop the project alongside Levy, who directed her in the 2010 action-comedy Date Night, as a producer.
For those unfamiliar, Fancy Nancy centers on a little girl who has a deep love for fancy words like "iridescent" and "posh," garish accessories like tiaras and feathered boas, and possesses a drive to make the world a more ostentatious place. She's a spirited young heroine with a style all her own that's made her a celebrated icon for little girls worldwide. This petite fashionista who has sold more than 17 million books since her debut in 2005, as well as a wide variety of toys and even an i-Pad app, is also adored by moms who feel she inspires their daughter's creativity and self-confidence.
There's no reports yet on who will write the script inspired by author Jane O'Connor and illustrator Robin Preiss Glasse's 46 Fancy Nancy titles, but hopefully Fey will contribute here as well. With two daughters of her own she would likely have a vested interest in making sure the Fancy Nancy adaptation is suitably resplendent. EW further reveals the movie version of Fancy Nancy will not be animated, but live-action, and Fey has no intention of performing in the film. Perhaps instead, she'll bring in her Baby Mama co-star Amy Poehler, who beyond being wonderfully funny has also created a spunky little heroine of her own on the short-lived—but heralded—Nickelodeon cartoon The Mighty B!.
Seriously, if you're a Parks and Rec or 30 Rock fan, do yourself a favor and check out The Mighty B!, it's currently streaming on Netflix Instant and is meta, smart, and hilarious.
Your Daily Blend of Entertainment News
Staff writer at CinemaBlend.
Your Daily Blend of Entertainment News
Thank you for signing up to CinemaBlend. You will receive a verification email shortly.
There was a problem. Please refresh the page and try again.