Titanic Almost Went With This Guy Over Leonardo DiCaprio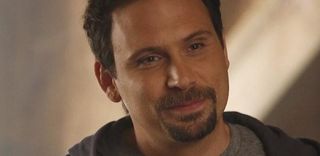 Years back, James Cameron's Titanic grossed $2 billion dollars (second only to Avatar) as it skyrocketed the careers of both Kate Winslet and Leonardo DiCaprio. Recently, however, we came to learn that the role of Jack Dawson in the epic ocean-romance, disaster pic almost didn't go to DiCaprio, but to a lesser-known actor who goes by the name of Jeremy Sisto.
Sisto, known by many as Mr. George Altman from ABC's Suburgatory, recently sat down with HuffPost to discuss his role in the upcoming A&E series The Returned and decided to share a few words about the self-proclaimed "life failure," not getting the role of Jack after auditioning. But he didn't seem too broken up over the fact that Cameron ultimately chose to go with that other guy... what was his name anyway? I can't remember. Oh, right, DiCaprio. Here's what Sisto had to say about the whole ordeal:
While Sisto didn't really discuss whether he thought his rendition of Jack Dawson would have superceded that of his fellow actor, he did elaborate on his love for the film itself, showing great respect for James Cameron's epic masterpiece.
Picturing Sisto in the role of Dawson may be difficult for some, and rightfully so, due to Leonardo DiCaprio's top-notch portrayal of the character being etched into our brains over the years. Thanks to the internet, though, we can get a better idea of what we could have seen if the Six Feet Under star had gotten the break of a lifetime. Sit back and enjoy Jerremy Sisto's Titanic screen test:
There's no doubt Sisto's career would be in a different place had he landed the sought after role of Jack Dawson in Titanic, but the dramatic/comedic actor doesn't seem to be all that broken up about it. After all, had he landed the part, we may not have gotten to see his brilliant performances in shows like HBO's Six Feet Under and films like Adrienne Shelly's Waitress.
Whether or not the lost Titanic opportunity affected Sisto's career earlier on, it doesn't seem to have much of a hold these days as the Robot & Frank actor has a relatively busy schedule ahead. Among the many projects (at different stages of development) on his docket, he set to appear in the above-mentioned horror drama series The Returned and is voicing Talon in the upcoming animated Batman vs. Robin movie.
Your Daily Blend of Entertainment News
Thank you for signing up to CinemaBlend. You will receive a verification email shortly.
There was a problem. Please refresh the page and try again.