Jennifer Lawrence And James Cameron Are Teaming Up To Make This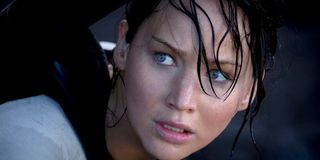 Jennifer Lawrence has made a fast climb to the top. She has already worked with some of top actors and actresses in the game, including the likes of Bradley Cooper, Julianne Moore, Michael Fassbender and Robert De Niro, and has quickly become buds with one of the most sought-after filmmakers in the current business, David O. Russell. That said, there's always another door to be opened, and with the recent announcement that she will be teaming up with James Cameron, it looks like it's the Avatar mastermind who will be inviting her inside his cinematic abode.
Recent reports show the Oscar-winning actress is re-teaming with Hunger Games director Francis Lawrence for the newly-announced film, entitled The Dive—a film which will be produced by Cameron. The film will tell the true story of freedivers Francisco "Pipin" Ferraras and his wife Audrey Mestre, who made headlines for their attempts to break records for deep water diving on a single breath. Per The Wrap, Lawrence will play the character of Mestre, who tragically died while attempting to beat her own world record, diving to an almost-unbelievable depth of 557.7 feet. Ferraras later paid tribute to his wife by diving to that same depth in an attempt filmed by Cameron.
Lawrence first popped on the screen with her critically-acclaimed role in the 2010 indie film Winter's Bone. She scored a prime part as Raven/Mystique in the X-Men franchise a year later, followed by a game-changing role as the lead in The Hunger Games franchise, the last two of which were directed by Francis Lawrence (The Hunger Games: Mockingjay – Part 2 will mark their third collaboration).
It was in 2012 that Jennifer Lawrence deeply struck a chord with audiences when she appeared with Bradley Cooper and Robert De Niro in the highly-successful Silver Linings Playbook, a film which marked the beginning of her collaboration with the trio of artists. The four of them have since worked together on American Hustle and will come together for Joy later this year. While they have all shared great successes together, with likely with more to come, it's good to see her stepping outside of that circle for her new project with Cameron.
Cameron's involvement on The Dive shouldn't be all too surprising. The writer/director/producer has expressed an interest in diving and underwater productions ever since his debut film Piranha Part Two: The Spawning. He explored the ocean a bit further with The Abyss and Titanic, and more recently through a series of deep sea exploration documentaries produced over the last 15 years. In collaborating with Lawrence on The Dive, he will get a chance to bring his love of the ocean back into major motion pictures.
Lawrence will soon be seen in the next installments of her collaboration with O'Russell (Joy), The Hunger Games and X-Men, the former two in 2015 and the lattermost in 2016. Cameron will be busy for the remainder of this decade working on the next three sequels of his technologically-advanced Avatar series of films.
Your Daily Blend of Entertainment News