Tom Cruise Hangs Himself From World's Tallest Building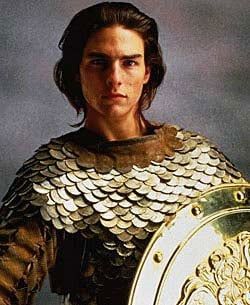 A bit of creative article titling and BOOM! you're hooked. Alas, the long-time actor WAS found hanging from the Burj Khalifa in Dubai, but in a harness, not by his neck. His alter ego Ethan Hunt was seen performing some unbelievable stunts in the Middle East, according to MovieFone.
Of course these are shots from Cruise's latest installment of his acclaimed Mission: Impossible series called Ghost Protocol, which obviously at least in part takes place in Dubai as those building can't really double for anything else. Directed by Brad Bird and co-written by the series' last director, J.J. Abrams, the story for this next outing is a total secret, but if I had to guess I'd say Ethan Hunt unravels some evil corporation's plot to take something over that they shouldn't.
In a world full of miles of red tape and insurance and liability hang ups, it's pretty awesome to see an actor out there doing crazy shit on his own, specifically for the sake of the film's authenticity:
We still might be a ways off from seeing any teaser video of this film as it won't hit theaters until December 16th of next year, but I won't be surprised if in a few days a YouTube video surfaces shot by a passerby just kickin' it at the right place at the right time. For now those, these pictures from MovieFone and the NY Post should suffice.
Mission: Impossible Ghost Protocol will also star Simon Pegg, Ving Rhames, Jeremy Renner and Josh Holloway.
Your Daily Blend of Entertainment News