Tom Cruise Turning Butch Cassidy Into A Scientology Buddy Movie?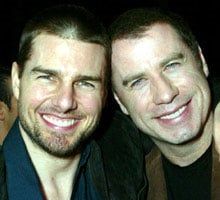 It's sort of surprising that this hasn't happened before, I just it didn't require dancing on Paul Newman's grave for them to do it. Hollywood's two most well known Scientologists may finally teaming up for a movie, and it's not Battlefield Earth 2. The Daily Express claims that Tom Cruise is working on a remake of Butch Cassidy and the Sundance Kid, which he intends to star in with John Travolta.
Weirder still, rumor is that Cruise actually got Paul Newman's blessing before he died. A convenient claim, since he's not around to confirm it. I find it pretty hard to believe Newman would give Tom Cruise anything, let alone his approval to turn his most well known movie into a Scientologist buddy movie. It's worth remembering that this story comes from a British newspaper, never a reliable source and more often than not a hive of mostly made up stories designed to shock people into reading.
Assuming however, that the Express is telling the truth, then Cruise is actively seeking screenwriters for his remake, which he wants to get done through United Artists, the studio he jointly owns. Cruise would cast himself as Robert Redford's Sundance and Travolta would be Cassidy. The film would still be the tale of two lovable Wild West bankrobbers, but it's pretty unlikely that it would also still win Oscars.
Your Daily Blend of Entertainment News