Tom Cruise Wants Hayley Atwell, Rosamund Pike Or Alexa Davalos For One Shot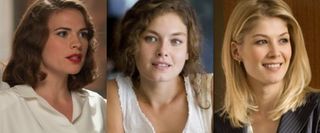 As he eyes a crop of nubile, much-younger actresses as potential co-stars for his next movie, Tom Cruise is somehow morphing into a real-life version of Matthew McConaughey's Dazed and Confused character: "I get older, they stay the same age." The soon-to-be-50 actor has impressively held on to his chops as an action star despite undeniable middle age, and apparently to prove it has to bring in actresses much younger than he is to surround him, whether Paula Patton in the upcoming Mission: Impossible--Ghost Protocol or the newly released shortlist of actresses who might join him in his next film, One Shot.
According to THR, Cruise and One Shot's director Christopher McQuarrie have their eye on three actresses to play the female lead, a tough lawyer who teams up with Cruise's character, Jack Reacher, to solve the mystery of a string of sniper killings. The list includes 29-year-old Hayley Atwell, fairly unforgettable as the sassy female lead in Captain America: The First Avenger; 29-year-old Alexa Davalos, last seen lost somewhere in the chaos of Clash of the Titans; and 32-year-old Rosamund Pike, of An Education and Pride & Prejudice and Barney's Version, and weirdly enough, replacing Davalos as Andromeda in the upcoming Clash of the Titans sequel.
As reported earlier this month, McQuarrie and Cruise had also eyed Another Earth breakout star Brit Marling, but she's opted to team up with Robert Redford on The Company You Keep instead (I guess those Sundance loyalties run deep).
One Shot starts production this fall in Pittsburgh, so they'll likely have to make a decision soon, but there's no guarantee the pick will be any of these three actresses. All of them seem like perfectly good choices, up-and-coming actresses who could get a higher profile from playing the probably thankless female lead in a Tom Cruise action movie, but all of them talented to actually make something of the role anyway. Atwell's time in the Marvel universe is probably over thanks to the giant time leap that happens at the end of Captain America, so if she wants to continue her brand of sassy, smart-talking female heroines, maybe this is her best step forward.
Staff Writer at CinemaBlend
Your Daily Blend of Entertainment News
Thank you for signing up to CinemaBlend. You will receive a verification email shortly.
There was a problem. Please refresh the page and try again.