Tom Hardy Will Suffer From PTSD In Upcoming Drama Samarkand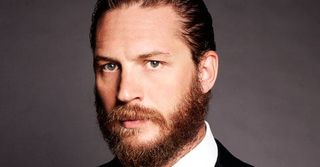 Between when Tom Hardy won the world's attention as the scene-stealing Eames of Inception and his string of captivating performances in Tinker Tailor Soldier Spy, Warrior, Lawless and The Dark Knight Rises, the charismatic and deeply captivating actor took the time to star in a short film called Sergeant Slaughter, My Big Brother. The celebrated short directed by emerging filmmaker Greg Williams focused on two brothers and how their lives change when the older one (Hardy) joins up for the French Foreign Legion. Soon Williams and Hardy will reunite on a feature that will star the latter as a suffering soldier.
Deadline reports Hardy will front Samarkand, a drama that will explore the tricky issue of post traumatic stress disorder, a severe anxiety disorder that has afflicted many men and women in the armed forces. Named for a major city in Uzbekistan, the film centers on a soldier in the British Special Air Service who struggles to reintegrate back into civilian life after returning from mind-shredding service abroad. While PTSD has become a cliché in soldier-centered dramas, Hardy's involvement gives me faith that Samarkand will be a thoughtful look into this terrible affliction.
Hardy and Williams developed the film together, along with Solar Pictures' Bobby Paunescu, and William's brother Olly. Already a lauded photographer, Greg Williams will make his feature directorial debut with Samarkand. However, with Hardy attached to a growing slate of projects—including the Dennis Lehane drama Animal Rescue, Doug Liman's Everest, and Daniel Espinosa's thriller Child 44 --it's unclear when Samarkand might roll into production.
In the meantime, check out Sergeant Slaughter, My Big Brother below:
Sergeant Slaughter - My Big Brother from Douglas Ray on Vimeo.
Your Daily Blend of Entertainment News
Staff writer at CinemaBlend.