The Top 10 Movies Of 2015, According To Cinema Blend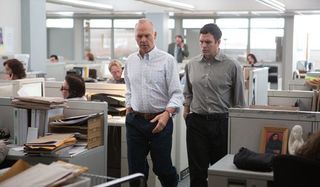 One of the best benefits of working for a movie website is simply getting the opportunity to see lots and lots of movies. During any week of the year, staff members here at CinemaBlend are regularly leaving and coming back from various screenings, always ultimately eager to explain their thoughts and opinions on a particular piece of work. This past year, all of us got to see many great movies, and while we sometimes had different opinions, there were others that all of us could definitely get on the same page about. This list is a celebration of those films.
For all of 2015, the editors and writers here at CinemaBlend have been keeping track of all the movies we've seen and logging our opinions, and now that the year has come to an end, we've used those numbers to determine the Top 10 for the website. Only movies seen by three or more members of the staff were taken into consideration for the list, and the ranking is based on individual votes out of five (ties are broken by number of votes received). So what are the titles that we consider the best if the year? Read on to find out!
10. Ex Machina
Average Score: 4.3125/5
Alex Garland's Ex Machina is what can easily be described as a high-concept science-fiction film: it's the story of a tech genius (Oscar Isaac) who invites one of his employees (Domhnall Gleeson) to his secluded home so that he can perform a Turing Test on what could be the world's first artificially intelligent android (Alicia Vikander). Simple as the premise is, however, the execution is nothing short of immaculate. As a first time director, Garland does an amazing job constructing a unique and incredible aesthetic and atmosphere for the film, while the escalating nature of the story does an amazing job building to what is really a shocking and terrifying ending. Just be ready to be a bit afraid of the future while you're walking out of it.
9. Anomalisa
Average Score: 4.3333/5
These kinds of Top 10 lists are generally used as a way of reflecting on the past year, but because Charlie Kaufman's Anomalisa hasn't actually come out just yet, you can read this one as more of a recommendation. Admittedly it's best to go into this stop-motion animated film knowing as little as possible – but given that it's a Kaufman film, you should know to expect anything but the norm, and some truly beautiful and devastating analysis of what it means to be alive and how we look at the world around us. As the end credits roll, it's the kind of movie that makes you want to sit in silent contemplation and take it all in – if not especially because so much of it is up for interpretation. This is the kind of film you should see as soon as you get the chance, so don't miss your opportunity.
8. Room
Average Score: 4.3333/5
Weird as it is to say about a film on a Top 10 list, I wouldn't recommend purchasing director Lenny Abrahamson's Room when it comes out on Blu-ray. This isn't a knock against the movie – but instead just the opposite. This particular title is so impressive and emotionally devastating that the chances of you ever wanting to watch it again after the first time will be very slim. The story of a young kidnapped woman (Brie Larson) who has been forced to raise her son (Jacob Tremblay) in captivity, the film has an incredible capacity to shove your heart right into your throat, and it does it time and time again throughout its runtime. And just as fair warning, if you're a parent, you may want to take at least a few days to prepare before seeing this one.
7. Love & Mercy
Average Score: 4.375/5
Music biopics have a tendency to be a dime-a-dozen, typically telling the same story of a rise from poverty, extreme success, the dangers of excess, and redemption. Bill Pohlad's Love & Mercy is a very different kind of movie than that, however, and we are extremely grateful of that fact. Telling the story of Beach Boys lead singer Brian Wilson at two very different points in his life, the two-tiered story is executed brilliantly by leads Paul Dano and John Cusack, successfully telling two individual and complete stories while also telling one together that's much bigger and more significant. It's anything but conventional, and overall a wonderful tribute to the genius who brought us music that will live on for generations.
6. Inside Out
Average Score: 4.3889/5
While watching Pete Docter's Inside Out, it doesn't take long to understand just how incredible it's going to be. After all, this is a movie spends its opening moments animating what it's like for a being to develop conscious thought after first being born… and bring a tear to your eye while doing it. The film has one of the best scripts that the folks at Pixar have ever produced – brilliantly operating on two levels, following the life of a little girl named Riley and the parallel adventures of the emotions in her head – and it really has something beautiful to say about maturity and growing up. The only downside of this movie is that it's really hard to watch it public, given the fact that it will have you start crying over and over through its runtime.
5. The End Of The Tour
Average Score: 4.5/5
When you watch James Ponsoldt's The End Of The Tour I would recommend bringing a pen and some paper with you. It's not because you'll be bored and wind up doodling it's quite the opposite. So many pearls of wisdom and fascinating ways to think about life are dropped in the midst of conversation that you're going to want to jot them down so that you can refer to them later. The film isn't big or flashy in any way, mostly centering around a conversation between two incredibly smart men (played brilliantly by Jason Segel and Jesse Eisenberg), but the movie succeeds by making you look at the modern world from a new angle and understand the brilliant perspective of genius author David Foster Wallace.
4. Brooklyn
Average Score: 4.667/5
The story sounds small, but its emotional impact couldn't be larger. John Crowley's tender, loving Brooklyn captures the hopes, dreams, trepidations and outright fears of a young immigrant's experience, displayed beautifully across the expressive face of Saoirse Ronan. She plays Eilis, an Irish lass sent to New York in the 1950s to look for a better life than the one her single mom can provide. The going is tough, but in time, Brooklyn begins to feel like home… especially after she meets and falls for the charismatic Tony (Emory Cohen). What happens next will captivate and devastate, because the cast aligns tunefully with Nick Hornby's compassionate script, and the mood of Brooklyn washes over you to create one of the most winning dramas of 2015. (Contributed by Sean O'Connell)
3. Spotlight
Average Score: 4.75/5
When people have conversations about great cinema about investigative journalism, titles like Alan J. Pakula's All The President's Men and Billy Wilder's Ace In The Hole are titles that are regularly brought up, but after 2015 another film can be added to that list: Tom McCarthy's Spotlight. Centering on the Boston Globe's research into sex scandals within the Catholic Church, the movie doesn't have any big central villain or ticking clock, but it's absolutely spellbinding and stunning work that is brought to life by an insanely talented ensemble of actors, including Michael Keaton, Mark Ruffalo, Liev Schreiber, Stanley Tucci and Rachel McAdams. This is the kind of movie that wins Best Picture at the Oscars, and everyone cheers when it does – so if you haven't had a chance to catch it yet, make it a priority.
2. The Martian
Average Score: 4.75/5
Ridley Scott's The Martian is way more fun than it should be. After all, it's about a mission in space that goes terribly wrong, leading one astronaut to fight for his life on the surface of Mars while people at NASA try and figure out some way to save him. Because of this, the film does have plenty of high-tension, high-stakes drama, and it's executed perfectly, but the real take away watching the movie is just how awesome science and space travel can be. Matt Damon puts on one of his best and most charismatic performances of his career (which is saying a lot), and from end to end this science-fiction adventure is just an all-around blast and a must-see.
1. The Hateful Eight
Average Score: 4.8333/5
Quentin Tarantino is a very special filmmaker, and just in case you can't tell by The Hateful Eight's ranking on this list, that's a sentiment that's shared by most of the Cinema Blend staff. There aren't any filmmakers who can write dialogue or violence quite like he can, and the darkly comedic pitch he's been able to hit many times throughout his career can be found nowhere else. It's all these elements that come together to make The Hateful Eight such a fantastic and memorable film. The movie gathers arguably the best cast the director has ever put together, and though almost all of the action is contained within four walls, there are few titles this year that you'll find to be more explosive or engaging.
Assistant Managing Editor
NJ native who calls LA home and lives in a Dreamatorium. A decade-plus CinemaBlend veteran who is endlessly enthusiastic about the career he's dreamt of since seventh grade.