Top Gun 2 A Possibility For Tom Cruise?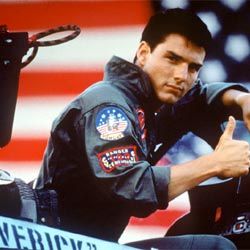 What do Hollywood stars do when they've lost their box office drawing power? They start revisiting their old hits. With the distant third place finish of Knight and Day last weekend, that's just where Tom Cruise is. He could use a little career boost and that could mean he'll start revisiting his catalogue of beloved hits as a way of regaining your attention. If he does, maybe he'll start with Top Gun.
Producer Jerry Bruckheimer tells MTV that there have been attempts in the past to get a Top Gun sequel done. Cruise was even actually involved at some point, but it never quite happened.
Now though, Bruckheimer says interest in a Top Gun 2 has been renewed. After being recently approached about the possibility of a sequel he explains, "We kicked around some ideas because the aviation community has completely changed since we made the movie a long time ago. So we have to find a way in and how to incorporate the Maverick character into it."
Check out Bruckheimer's Top Gun 2 themed interview embedded below:
Part of the problem in bringing back Top Gun with Maverick as the lead is Tom's age. He's now far, far too old to play a Navy fighter pilot. About the only way a guy with his years gets to fly a plane is if he's stuck at the stick of a commuter jet. Do we really want to watch Iceman flying for Delta? Actually that's already been done. Here it is:
There are other possibilities, but all equally as heinous. For instance I'm pretty sure we don't need or want to see a Top Gun sequel in which an aged Maverick is now some sort of Navy training instructor bringing up a new class of shirtless, volleyball playing fighter pilots. That's a sequel formula which never works. Top Gun was great, but it's far too late to put Maverick back in the cockpit.
Your Daily Blend of Entertainment News