The Touching Reason Ken Jeong Accepted His Role In The Hangover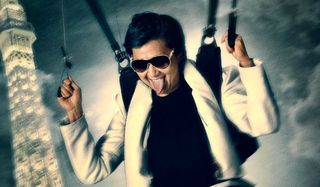 Ken Jeong's uproarious performance as Mr. Chow in The Hangover was off-the-walls, batshit crazy, and also one of the most life changing roles of his career. But the reason he accepted the part is particularly moving. The 45-year-old comedian recently revealed that the only reason he joined the Hangover crew was by the urging of his wife, who wanted to get his mind off her breast cancer diagnosis.
Jeong is one of the subjects of a new PBS documentary series, called Cancer: The Emperor of All Maladies. In it he shared the emotionally charged story of how he came to play one of the most ridiculously over-the-top characters of cinema. Though it was a small role back in the 2009 film, Mr. Chow provided most of the more memorable moments. As quoted by The Korea Times, Jeong said he wasn't going to accept the part, even though it was offered to him. However, his wife, Tran, encouraged him to do it. She had been diagnosed with breast cancer, leaving Jeong to care for her and their 1-year-old twins as she underwent chemo. "She thought I was suffering from caregiver burnout," he said, which was the push he needed to take on the film.
Jeong channeled his rage towards his wife's condition into his performance, and it paid off handsomely. In 2010, Jeong's psychotic antics earned him an MTV Movie Award for Best WTF Moment, specifically the scene in which he leaps out of a trunk butt naked and lands on Bradley Cooper's face. While fans were expecting more laughs during the comedian's acceptance speech, they were moved by his words in support of his wife.
Speaking with MTV News directly after his acceptance speech, he explained that he wanted to take that time on stage to both raise awareness and praise his director Todd Phillips and his co-star Cooper. As he said, they were the only two people outside of his family who knew at the time, and they were both extremely supportive of Jeong on the set.
Tran has been cancer free for the past six years, but Jeong continues to fight the good fight. Since his MTV Movie Awards speech, he's been volunteering for the organization Stand Up To Cancer that includes promoting the PBS doc. Cancer: The Emperor of All Maladies was filmed by Barak Goodman and Ken Burns and will air on the network on March 30, 31 and April 1.
Your Daily Blend of Entertainment News