Toy Story 3 Earns A Billion, Disney Makes History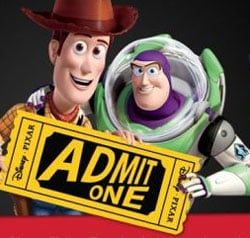 A few weeks ago Toy Story 3 officially beat out Finding Nemo to become Pixar's highest grossing film of all time. Today it crosses another big box office landmark, when it rolls past $1 billion earned.
By the end of today, Toy Story 3 will have earned more than a billion dollars worldwide. In fact, it'll be the second Disney film this year to do so, making Disney the first movie studio in history to release two billion dollar pictures in a single year. Alice in Wonderland was the other one, having accomplished the feat earlier this year.
While Alice in Wonderland's merits are debatable, Toy Story 3 deserves every dollar. In the midst of what is shaping up to be one of the most dismal years for movies in recent memory, Buzz and Woody's final outing has been one of the few shining beacons of filmmaking quality. It's not just Pixar's biggest earner, it may also be their best movie. Just when you think they've topped themselves, they always find a way to do something even better.
Disney has had its failures this year, Prince of Persia was a massive flop by any measure. Consistency isn't exactly their thing. But they've produced the two biggest movies of 2010 so far, and better still, one of them was also the year's best reviewed film. Maybe they're on to something over there.
Your Daily Blend of Entertainment News
Thank you for signing up to CinemaBlend. You will receive a verification email shortly.
There was a problem. Please refresh the page and try again.