The Transporter Refueled Trailer Continues The Franchise Without Jason Statham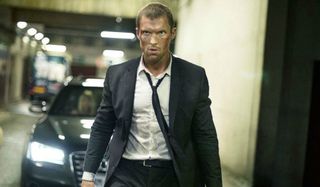 The debut trailer for The Transporter Refueled is here to pose an important question: can this franchise live on past the tenure of former star Jason Statham? Watch the clip below and judge for yourself.
We'll see how the final result turns out, but for now I must admit this has poor man's Transporter written all over it. Ed Skrein has been cast as the actor to replace Jason Statham in the franchise, and even though the opening segment of the clip – courtesy of Apple (opens in new tab) - proves that he can kick, punch and look at a watch in a choreographed fashion, it's going to be a sincere challenge standing in the shadow of his predecessor.
Jason Staham confirmed that he is now focusing on The Mechanic franchise instead of Transporter last year. Ed Skrein was then cast as his replacement, and even though I have my doubts there are some positives to be taken from his casting. Skrein certainly has hugely impressive muscles, while he is also ruggedly handsome too. And, to give him the benefit of the doubt, maybe the nuance and complexity of his performance just can't be appreciated in a minute and a half clip. On a larger scale, maybe he'll wind up being everything the original Frank Martin was and more.
Most viewers will recognize Ed Skrein from his portrayal as Daario Naharis in the third season of Game Of Thrones, and the behind-the-scenes story is that the actor actually gave up his role up in the massively successful HBO fantasy series for the opportunity to play the lead role in The Transporter: Refueled. On some level, you have to admire that kind of confidence. You might also recall him from his work on The Tunnel and Ill Manors, and he will soon be getting to work playing a central antagonist role in the upcoming comic book movie Deadpool (which is gearing up for production now and will be in theaters next February).
One other major issue that I have with the first trailer for The Transporter Refueled is its blatant Audi product placement. Skrein even starts off the clip by basically promoting how ahead of its time and technologically advanced the Audi in front of him is, remarking, "Technology moves fast, doesn't it? I mean as soon as you think they can't come up with something, they come up with something else." Plus, it just so happens that Audis logo is prominent at all times in the trailer too.
The Transporter: Refueled is destined to be the first in a new trilogy. We'll know if the other two will be deemed necessary soon after thus first film is released on June 19th.
Your Daily Blend of Entertainment News
Your Daily Blend of Entertainment News
Thank you for signing up to CinemaBlend. You will receive a verification email shortly.
There was a problem. Please refresh the page and try again.