Travolta Excited To Remake Butch Cassidy And It's Our Fault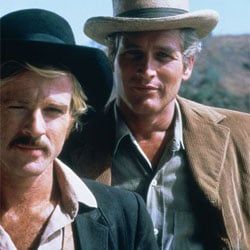 It was back in April that we first heard rumors of a Butch Cassidy and the Sundance Kid remake happening with Tom Cruise and John Travolta in the lead. We'd heard nothing since so, logically, I assumed that Paul Newman rose from the grave and preemptively murdered everyone involved using his newfound zombie strength. I guess that was a little far-fetched, because it seems the whole thing is back on.
But here's where it gets really sickening. It's our fault. My fault for reporting the rumor and your fault for being interested enough in the rumor to share it with your friends over Mojitos. Apparently the original rumor wasn't entirely true at the time, but when it got back to Travolta and Cruise they decided they liked it and now Pop Eater says John Travolta is "excited" about the redo notion.
He told Pop Eater, "Someone came up with a good idea - it was a remake of Butch Cassidy and The Sundance Kid." Wait, sorry. I have to stop you right there John. Point of order? I don't think it counts as "coming up with an idea" if you idea is just to steal someone else's idea. Ok, continue. "…and there was a rumor that we were gonna do that, and I said to Tom, It's not a terrible rumor, it's not a bad idea." And now he wants to do it. Again, not sure if this counts as an idea but if it is, then it's about as good on the idea scale as adapting Battlefield Earth. That went pretty well didn't it? So go ahead, turn Butch Cassidy and the Sundance Kid into a scientology buddy movie. I'm sure it'll be equally awesome.
Your Daily Blend of Entertainment News