Tribeca: About Alex Is The Big Chill For Millennials, Complete With Star-Stuffed Ensemble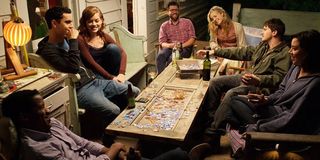 For better or worse, the Tribeca Film Festival has earned a reputation for selecting star-stuffed films that guarantee flashy red carpets and robust ticket sales. This makes a cast tightly packed with notable names a bit of red flag at the fest. But the ensemble of About Alex, which includes Aubrey Plaza (Parks and Recreation), Jason Ritter (Parenthood), Max Minghella (The Mindy Project), Nate Parker (Non-Stop), Maggie Grace (Californication), Jane Levy (Suburgatory) and Max Greenfield (New Girl), proves to the dramedy's strongest asset.
About Alex is being described by the fest as "a Big Chill for our current social media moment." The referenced 1983 movie memorably centered on what happens one weekend when a bunch of old college friends reunite, spending time fighting and forgiving following the funeral of the eighth member of their group, who killed himself. About Alex wears this comparison like a heart on its sleeve, name dropping The Bil Chill's Jeff Goldblum, saying aloud "this is like one of those '80s movies," and setting up a very similar plot. However, instead of The Big Chill's Alex succeeding in his suicide attempt, this Alex (Ritter) survives. And is subsequently surrounded by his old college chums, who offer support while demanding to understand why he'd do such a thing to begin with.
It's a setup that served The Big Chill well, but there's something especially endearing in that About Alex's suicidal friend has the chance to speak for himself rather than be some ghost everyone feels beholden to. It's a complicated array of emotions one feels when confronted with the suicide (or suicide attempt) of a close friend, ranging from panic, to guilt, to anger and regret. The script by first-time writer-director Jesse Zwick, handles these turns with an admirable emotional honesty, edged with the self-preserving sarcasm that so many twenty/thirty-somethings lean on.
His dialogue is smart and deftly weaves in mentions of Facebook, Twitter and Instagram without feeling like it's trying to sound contemporary. Of course these friends use these social media platforms to keep in touch. But--as the film's resident blowhard intellectual Josh (Greenfield) points out--these tweets and shares aren't a proper substitute for actually talking with your friends. They are just brief windows into their lives, and ones carefully selected to reflect what the sharer chooses, being oblique or aspirational but not a thorough reflection of their lives.
"Pseudo-psycho babble" aside, About Alex is about how friends can fail each other, and how to move on afterwards. The narrative stirs up professional and romantic jealousies, failed ambitions, previously unspoken attractions, and other hard truths in a way that feels rich with possibilities and often organic. But as the weekend moves along, the plot begins to buckle under too many threads, and character choices between to feel more convenient than earned. Still, the ensemble cast clicks and helps tug About Alex over these bumps.
Much of the work of the movie is done by shrewd casting. Grace perfectly looks the part of the dream girl every guy in the group has pined over at some point. Parker with his good looks and effortless air of confidence, stands firm as the group's rock star, a writer whose been published in The New Yorker and seems to be living his dream. Levy's a scene-stealer as a newcomer to the group, a girlfriend whose struggles to fit in make for one of the movie's funniest moments. Minghella is sweet but a bit forgettable as the group's nice guy Isaac. He shows up mainly to remind their snarky Sarah (Plaza of course) what a warped love-hate relationship she has forged with her first love, the aforementioned insensitive intellectual played by Greenfield, a role that is just hairs away from New Girl's Schmidt.
Of course Greenfield nails his role, sizzling with that same spontaneous energy that makes him so much fun to watch on television. It might have been interesting to see him offered a less expected part, but you can't argue that he doesn't make this work. Surprisingly, Plaza is asked to shoulder much of the film's biggest dramatic moments, but she doesn't quite land them. Having seen her play the snarky girl with a heart of gold again and again, this slight deviation, which demands a twinge of constant anxiety, rings false. (She doesn't read as anxious, but thankfully Sarah keeps telling us she is.)
Lastly, Ritter is positively heartbreaking as Alex. With a dopey grin and big bandages around his wrists that beg you to take them in, he seems just glad to see his friends. His lack of apparent depression is rattling to them, but soon enough this jittery façade of joy falls away, and About Alex and its title character dig deep.
It was a bold move to essentially remake a movie as iconic as The Big Chill, but About Alex doesn't play as if it's trying to usurp the beloved '80s dramedy. Instead, it seems to want to add its portrait of adulthood to the ages. Because it so clearly invites the comparison, it's hard not to consider which of the two works better. It's Big Chill. But About Alex is a moving and darkly funny movie that offers familiar characters stumbling through a journey that is relatable and engaging. It's far from flawless, but is a promising first feature with lots of charm.
Your Daily Blend of Entertainment News
Staff writer at CinemaBlend.