Grand Budapest Hotel's Jeff Goldblum & Willem Dafoe Make Dreams Come True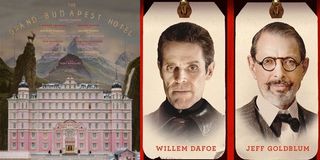 Last week in New York I had the extraordinary experience of sitting down with two actors I've admired for literally decades: Jeff Goldblum and Willem Dafoe. Discussing Wes Anderson's new film, Grand Budapest Hotel, they not only shared details on the inner workings of the film's construction, and Anderson's generous nature in sharing its inspirations, but also how the specific looks of their characters evolved and shaped their performances. But before all that, Jeff Goldblum made my day. Maybe my year. Possibly my decade.
As a bit of background, I--like many of you--have been crushing on Goldblum ever since he played the cocky chaos theorist Ian Malcolm in 1993's Jurassic Park. Still, I'm a professional, so I planned on keeping my crush to myself. But any cool composure I may have mocked up melted away when I introduced myself, because Goldblum exploded in signature enthusiasm, telling me, "Wow! You look fantastic!" Instantly, I felt lightheaded. I mumbled about being a big fan and loving the movie as I took my seat.
Typically, when cutting together interviews, I spare you all the moments before which are usually interviewer and interviewee saying quick hellos and other courtesies as the film crew preps everything in a deftly efficient manner. But Goldblum's pre-roll conversation was so definitively Goldblum, I just had to share. This video picks up just as he finishes saying (for a second time) that I look fantastic. As you can see, I was elated. But hey, I pulled it together, and from there the three of us had a great conversation about The Grand Budapest Hotel.
Watching Wes Anderson's rousing murder-mystery, I fantasized about what it would be like to live in the fictional European nation of Zubrowka, to walk the luxurious and colorful halls of the titular hotel, to taste the drool-inducing pastries of Mendl's bakery, to smell the preferred perfume concierge Gustave H. drenches himself in. Dafoe, Goldblum and the rest of the cast came as close to this as any of us ever will.
The production took over the small German town called Gorlitz, shooting on location and building the film's elaborate sets--from the Grand Budapest itself to a variety of other exotic locales--within a turn-of-the-century department store. Dafoe told me that visiting these sets became a hobby on his days off. He said of Anderson, "He's excited and turned on, he likes to share what's going on. That was the best thing in town was visiting the set when you weren't working."
Goldblum agreed, insisting, "It would be people's dying wish--it'd been my dying wish if I hadn't gotten a chance to do it! Can I one day can I see what it's like to make a Wes Anderson movie and watch Ralph Fiennes and Willem Dafoe working?... That's great."
Anderson also shared his research material with those in the cast who were interested. "He opens the whole thing up," Goldblum explained. "He has a research room in this hotel we occupied exclusively where he's got all the books of old hotels and peoples' clothing and objects, and then movies that the movie is kind of an inspiration from, To Be Or Not To Be, Grand Hotel, [Ernst] Lubitsch movies. So he offers that up and it's a little course, everybody shares in this little research project."
As to what they'd like to see Anderson tackle next, Dafoe was reluctant to say. But Goldblum surprised me by suggesting that if anyone could make a fitting film of J.D. Salinger's Catcher in the Rye, it'd be Anderson. This would be a very unlikely project, as Salinger's estate will probably follow his lead in never allowing those film rights to be purchased. But I'm with Goldblum on enjoying the dream of what such an Anderson adaptation might be.
The Grand Budapest opens March 7th. For more on the movie, check out our video interviews with Ralph Fiennes, and Tony Revolori and Saoirse Ronan.
Your Daily Blend of Entertainment News
Staff writer at CinemaBlend.