Tribeca Film Festival Interview: Deadfall Director Stefan Ruzowitzky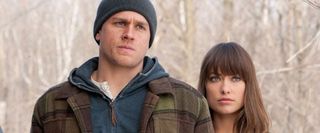 When a film involves icy temperatures, snowy terrain and an incredibly ruthless main character, you'd think a director would be a bit intimidated to give it a go, but Stefan Ruzowitzky was thrilled to take on Deadfall.
The film stars Eric Bana and Olivia Wilde as Addison and Liza, a brother sister duo who just robbed a casino. They get the cash and are seemingly in the clear until their getaway car crashes, killing the driver and leaving Addision and Liza without a way out. They opt to split up, Addison heading into the snow-laden woods and Liza hitting the road until an unsuspecting motorist, Jay (Charlie Hunnam), gives her a ride to the nearest hotel – and takes it upon himself to keep her company. Part family drama and part thriller, Addison and Liza must fight through emotional and psychical struggles to evade the local police and reunite.
Having celebrated Deadfall's world premiere at the Tribeca Film Festival, Ruzowitzky was in town and sat down to talk all about the challenging production process, from the chilly temperatures to the expected problem involving their snow substitute. Hear all about that and much more in the video interview below.
Your Daily Blend of Entertainment News
Staff Writer for CinemaBlend.
Your Daily Blend of Entertainment News
Thank you for signing up to CinemaBlend. You will receive a verification email shortly.
There was a problem. Please refresh the page and try again.