Tribeca Film Festival Interview: Free Samples Director Jay Gammill And Star Tippi Hedren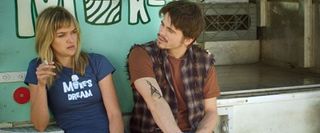 A first feature is an intimidating task no matter what, but for Jay Gammill, the odds were in his favor in a lot of ways.
Gammill's film Free Samples stars Jess Weixler as Jillian, a recent law school dropout who's drowning her sorrows in alcohol and letting anyone and everyone feel the wrath of her sour attitude. When her best friend suckers her into manning her ice cream truck for the day, Jess hands out some free samples, but not without giving every costumer a hard time. However, as the day progresses, not only does Jess encounter people she actually thinks deserve her respect, like Tippi Hedren's former Hollywood starlet, Betty, but comes to some personal revelations as well.
Not only was Gammill fortunate enough to find a writer he was totally in tune with, but he landed Weixler as his lead as well as Hedren, Jason Ritter, Jesse Eisenberg and more top-notch talent. Sure, it wasn't easy shooting a film that takes place primarily in a rather small ice cream truck during a single sunny day, but they pulled through and came out with a film that was worthy of playing in the Tribeca Film Festival.
Hear all about Free Samples from Gammill and Hedren in the video interview below.
Your Daily Blend of Entertainment News
Staff Writer for CinemaBlend.
Your Daily Blend of Entertainment News
Thank you for signing up to CinemaBlend. You will receive a verification email shortly.
There was a problem. Please refresh the page and try again.