Tribeca Film Festival: Oxyana Heartbreakingly Scratches The Surface Of An Invisible Epidemic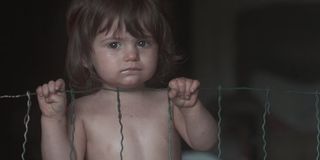 Prescription drug abuse isn't as attention-grabbing as bath salts, and not as glamorized as meth, but as the documentary Oxyana movingly depicts, it's just got as much power to destroy. Taking its title from the nickname acquired by Oceana, West Virgina, Oxyana is a portrait of modern rural American life as completely transformed by drugs, in this case a legal prescription painkiller that has paralyzed an entire generation.
Consisting almost entirely of interviews with local residents, along with some scenery shots that seem to mostly act as padding, Oxyana provides room for the voices of people virtually forgotten by the culture at large-- and for whom being left behind stings badly. The children of coal miners who grew up with what one local man calls "Appalachian fatalism," the subjects explain one by one how drugs wound up taking over their lives-- they were bored, they were in pain after years of menial labor jobs, or they wanted to just do what everyone else around them did. Some of the stories are astonishingly heartbreaking-- one man recalls how his father murdered his brother and mother in what he suspects was an argument over drugs-- while others slowly emerge with their own quiet despair. Several subjects begin speaking about how Oxy has ruined their community before we learn that they too are addicts.
Director Sean Dunne elicits powerful stories from the residents of Oceana, and by telling the story entirely in their voices he makes them all remarkably sympathetic, even the local drug dealer who is actively profiting from the disaster. At the same time, the lack of identifying chyrons for each of these people seems to suggest they're so minor that they're not worth naming, and the aimless shots of dingy local businesses are patronizing in a way the interviews never are. Oxyana is a deliberately limited vision of a massively underreported problem, and the fact that it exists at all is an accomplishment. But the powerful emotions of outrage, sorrow and pity stirred up by Oxyana demand a film with a little more scope and death. With the access he now has to this fascinating town, hopefully Dunne makes that one next.
To catch up on all of our Tribeca coverage, click here.
Your Daily Blend of Entertainment News
Staff Writer at CinemaBlend