Tribeca Film Festival Review: Paul Verhoeven's Crowd Sourced Melodrama Tricked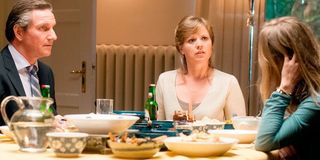 As the internet and social networking online has evolved, so has the concept of crowd sourced cinema. To date it has come in several forms. Snakes on a Plane memorably played into the wishes of those hungry for its release with reshoots that amped up its gore and camp appeal. The giddy B-movie Iron Sky was memorably crowd funded, and the Veronica Mars movie has become a reality thanks to is historically successful Kickstarter campaign. It's into this sprawling web of crowd collaboration and crowd backing that polarizing director Paul Verhoeven (Showgirls, Basic Instinct) dove to create his latest, Tricked.
Called Steekspel in its native Netherlands, this film began as four script pages penned by Kim van Kooten that introduced eight characters and the beginnings of conflicts, including a "whose baby is that" plot line. From there, Verhoeven gave this beginning over to any interested aspiring screenwriter to continue the narrative by penning the next four to five pages. From that he and his editors would shape the next chapter, shoot it, debut it, and do it all again with fresh contributions for the next chapter. This means that production was mounted once for each of Tricked's eight chapters, and from the start neither the film's stars nor its director knew how things would end. It's an intriguing concept and a major risk, especially for a director as diligent about his vision as Verhoeven. But how did it turn out?
At the Tribeca Film Festival, the final narrative film plays out following a making-of documentary that reveals an increasingly harried Verhoeven in the throws of this extended and stuttered shoot. The director who in the past has carefully storyboarded every frame of his films has handed creative control over to hundreds of clamoring collaborators. Though Verhoeven is sometimes frustrated by their input (the Russian mafia!), he also is devotedly subjecting himself to it. The resulting melodrama hangs together way better than you'd expect, considering it has been crafted by merging elements from literally hundreds of scripts, its sections remarkably seamless.
Centering on a sleek businessman on his fiftieth birthday, Tricked unfolds a darkly comedic plot about his depraved family and duplicitous business partners. It's funny, and definitely has Verhoeven's touch with its demented humor and sexual danger. However, if it were stripped of its 30-minute doc setup and left to exist on its own, the narrative film would be pretty forgettable. As an experiment, it's a fascinating success of filmmaking by "democracy" as Verhoeven deems it. But on its own steam, Tricked is little more than amusing.
For our complete Tribeca Film Festival coverage, click here.
Your Daily Blend of Entertainment News
Staff writer at CinemaBlend.