Tribeca Review: When We Leave (Die Fremde)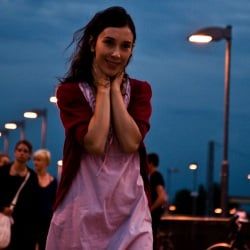 A woman and a small child are walking down a city sidewalk, accompanied by a young man she seems to know. Then the man points a gun at her. How this happens, and why, is the mystery lingering underneath the thoughtful and frequently heartbreaking drama When We Leave, a German film that touches on some of that country's own conflicts with its large Turkish immigrant population, but primarily serves as a very specific type of family melodrama.
The original German title Die Fremde translates roughly into "the foreign" or even "the alien," a better title than the English When We Leave that carries any number of equally satisfying meanings. It could refer to Umay (Sibel Kekilli), a 25-year-old woman living in Istanbul with her abusive husband who makes the radical decision of taking her young son Cem and moving back in with her family in Berlin. Or it could refer to the family themselves, middle-class Turkish immigrants who speak German at home and live in a cozy flat, but are clearly stuck in old codes of conduct when they quietly, then forcefully, encourage Umay to return to her husband rather than risk the shame of the community. Or it might just be the Turkish community itself, largely on the sidelines of the film but felt forcefully as Umay's family constantly fears their rejection due to having a divorced daughter.
Umay, despite living for years with her restrictive husband, is unflinching in her conviction to stay in Berlin, and even when her family forces out of their apartment she returns, bringing baklava or attending family celebrations, always hoping they will see the light and take her back. Walking forcefully to job interviews and group homes and even dates, often hand in hand with her tiny son, Umay is a figure both tragic and inspiring, unbowed by cultural pressure but also unaware of the tragedy that we, the audience, know will come to her. It is hard to express how excellent Kekilli is in the role. By the time the incident with the gun comes back in the story it's given an unnecessary twist, but by putting it in the beginning, director Feo Aladag has already given it the power to color our entire perception of her elegant story. Umay is a woman drowning, and on some level she knows it, but by God is she going to fight before it happens.
Aladag's insistence on playing out many of her scenes in silence leads to some confusion-- there are a lot of family members to get to know even though we're told very little about them-- and her ability to avoid melodrama slips from time to time, particularly in that final scene. But When We Leave is so well-acted, and so finely crafted, that it stands up above all its flaws. Some of the film's subtleties, like moments when characters switch from speaking German to Turkish and the basic tensions among the German Turkish populations, may be lost on viewers unfamiliar with German culture. But when Umay begs her father for forgiveness or giggles with her sister about boys or comforts her young son in the night, it's a universal story, and later a universal heartbreak.
Follow along with all of our special, Tribeca 2010 coverage right here.
Your Daily Blend of Entertainment News
Staff Writer at CinemaBlend