Twenty Years After His Death, River Phoenix Will Return To Theaters In Dark Blood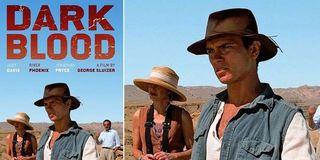 First Brittany Murphy, now River Phoenix.
On Halloween 1993, promising young star River Phoenix died at the age of 23, and while most of his devoted fans may have thought that his uncredited appearance in Even Cowgirls Get The Blues would be his final performance, 20 years later we're learning that the long, long delayed Dark Blood is finally getting a theatrical release.
THR reports out of Cannes that Lionsgate has bought the rights to Dark Blood, a thriller that had its production halted after River Phoenix's unexpected death. The film, written by Jim Barton and directed by George Sluizer, has Phoenix playing a desperate widower called Boy who lives in the desert on a nuclear testing site. When the Fletchers (Jonathan Pryce and Judy Davis), a married couple on their second honeymoon, show up on his land, he imprisons them to conquer his loneliness and lust.
Dark Blood was shot predominantly on location in Torrey, Utah back in 1993. It was when the production moved to Los Angeles for interiors that Phoenix overdosed and died. Producers were forced to shut down production and re-evaluate if Dark Blood could be completed without him. Phoenix's surviving family members sued to bar its completion. The case was settled in 1999, and the film's insurance company took control of the remaining footage.
In claims that seem more fitting of a heist movie than a movie production, Dark Blood director George Sluizer says he discovered the reels were being kept in a London warehouse. Desperate to reclaim his movie, he snatched the footage in the middle of the night. Still, a decade more would pass before Sluizer would attempt to complete Dark Blood. He told THR, "The negatives were still good, but part of the sound needed to be rebuilt and re-recorded. And only 65 percent of the story was shot…so I had to rewrite the story."
The Phoenix family refuses to see the finished film, but Sluizer claims River's mother Arlyn Phoenix has wished him "good luck." Dark Blood made its world premiere at the Netherlands Film Festival in 2012, and since then has hit a string of fests from Berlin to Istanbul, Moscow to Montreal, and most recently Brussels International Fantastic Film Festival. The Lionsgate deal will allow casual moviegoers to see what is truly River Phoenix's final film for the first time. It has already opened in Japan, and further nation venues are expected to be announced soon.
What will this strange film with an even stranger backstory look like? THR shares a trailer:
Your Daily Blend of Entertainment News
Staff writer at CinemaBlend.