The Two Superheroes Keanu Reeves Desperately Wants To Play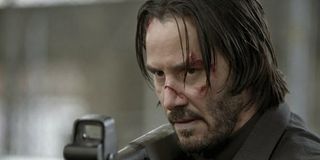 Keanu Reeves has performed many unique roles over his career, from Ted Logan In Bill and Ted's Excellent Adventure to Jack Traven in Speed to John Wick in...well, the movie of the same name that comes out this Friday. However, despite his diverse background, there's still one movie role he's never gotten the chance to tackle: superheroes. Sure, he used an assortment of superhuman abilities as Neo in The Matrix trilogy, but he's never gotten the opportunity to wear a form-fitting costume and fight evildoers with an unusual code name. It's a shame because Reeves had his eye on playing two especially popular superheroes that are audience favorites.
Currently doing the press rounds for his upcoming film (which is why you've been seeing his name pop up so much recently), Reeves expressed his superhero aspirations to Moviefone, and unfortunately it looks like these dreams may never come true. Asked if he thinks he'll get the chance someday to play a costumed crimefighter, the actor said,
With Hugh Jackman set to reprise Wolverine in X-Men: Apocalypse and a third Wolverine solo film, and Ben Affleck locked in as the DC Cinematic Universe's Batman, Reeves won't be able to take on those roles anytime soon - and by the time they could open, the studios will probably cast younger actors to play them. After all, portraying Wolverine requires a great deal of ferocity, and while Reeves has pulled off tough characters in the past, it's hard to imagine him pulling off the feral mutant's berserker rage. Batman, on the other hand, seems like a better fit. One could imagine the action star pulling off the quiet and intimidating presence of Gotham City's protector - and we know he has the moves to take down criminals. That being said, he just doesn't have the Bruce Wayne look going.
While Reeves has never gotten the opportunity to play a superhero, he does have experience with comic book films, previously playing DC Comics character and paranormal investigator John Constantine in the 2005 film Constantine. He's also one of the actors that's been rumored to play the titular protagonist in Marvel Studio's 2016 film Doctor Strange. When asked if he would be interested in playing the Sorcerer Supreme, Reeves expressed enthusiasm in reading more about the character, but admitted that at this stage of his career he's not keen on signing a long-term contract that working with Marvel would require. He brings up a good point. The comic book company is keen on keeping their actors tied down to the franchise, and if Reeves' main goal is to make quality films, he may not be able to do that as efficiently if he keeps having to appear in sequels and follow-ups for years and years.
One thing that Reeves doesn't have to worry about is looking too old when playing a superhero. Seriously, the man just turned 50, and he looks almost exactly like he did 20 years ago. Maybe he has a superpower of his own: immortality!
Connoisseur of Marvel, DC, Star Wars, John Wick, MonsterVerse and Doctor Who lore. He's aware he looks like Harry Potter and Clark Kent.
Your Daily Blend of Entertainment News
Thank you for signing up to CinemaBlend. You will receive a verification email shortly.
There was a problem. Please refresh the page and try again.