The UK Is Way More Concerned About Fifty Shades Of Grey Than The US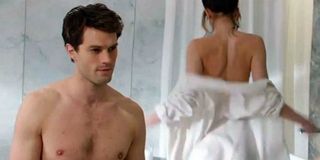 Poor Jamie Dornan. He's trying so hard to make sure people understand that Fifty Shades of Grey is more than just two hours of sex, but people can't stop talking about its risqué elements. This is becoming increasingly more difficult to argue in the UK, as the country recently revealed the rating it gave the film, and it's more restrictive than even in the U.S. And we all know how conservative the MPAA can be about films.
According to The Hollywood Reporter, the BBFC gave Fifty Shades an 18 certificate, which means that no one under the age of 18 can see the film. This doesn't bode well for those Brits looking to end the stereotype of prudishness. In the U.S., the MPAA labeled the film with an R rating, allowing those underage to see the film if accompanied by an adult. This came as a shock, given all the talk about a possible NC-17 rating, which is the equivalent to the 18 certificate. Though, director Sam Taylor-Johnson said that her team worked to edit down the material -- including cutting one of the most vulgar scenes from E.L. James' book — in order to achieve the R rating. Unfortunately, while the UK audiences will be able to see the full version of Fifty Shades, the BBFC thought it was still too inappropriate for underage persons.
The UK's decision to go with such a harsh rating shouldn't be too big of a surprise, in light of a recent headline stemming from a UK theater. The Welwyn Garden City cinema in Hertfordshire pulled down their massive banner for Fifty Shades in response to public disapproval of the image, which was that moment from the trailer of Dakota Johnson laying naked on red leather with hand ties and a blindfold.
In their own defense, the BBFC cited a prevalence of "strong sex and nudity," in addition to "erotic role play" based on BDSM. This makes it harder for Jamie Dornan, who was born in the UK, to keep everyone on message. Although he admittedly went to a sex dungeon in preparation for the role of Christian Grey, while tucking his penis in a "flesh-colored bag" to film certain scenes, he's been the main defender of the film's substance. He said recently that "the love story is more important than the BDSM aspect," and he's still waging the good fight against those who think otherwise — which, if we're being honest, is probably most of us. According to THR, he said of the film's new UK rating:
Like I said, poor Jamie Dornan.
Your Daily Blend of Entertainment News