UPDATE: Disney Rumored To Be Eyeing Hasbro Buy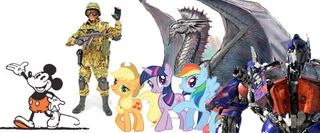 UPDATE: The Providence Journal has contacted Hasbro, who says they're not aware of any deal. Time will tell if this is the kind of denial you get when deals are just too early, or if there really is nothing to this. The original story follows below.
A few years back Disney was making money hand over fist when it came to marketing movies and related merchandise to girls, but the studio had a noticeable gap in the market when it came to boys. This was a major factor in Disney's decision to acquire Marvel Entertainment, a deal that led to the critically adored blockbuster The Avengers, which has made more than $1.5 billion worldwide. Now Disney stores are not only stuffed with princess dolls and frilly film-inspired dresses, but also Marvel action figures and corresponding costumes with padded muscles included.
Of course, last week Disney took another big step in drawing in boys by buying Lucasfilm and thereby the rights to Star Wars. And now MTV's Geek Spy has word that the House of Mouse possibly has another major acquisition on the horizon. According to their secretive source, Disney has entered into "serious discussions" to buy Hasbro. There's no way to tell when such a deal could happen, though it's worth noting the $4.05 billion Lucasfilm buyout took six months to setup.
As the largest toy and game company in the world, Hasbro would be a great buy for Disney. Not only do they hold toy and table top game licensing rights for Star Wars and Marvel, they also own Transformers, G.I. Joe, Dungeons and Dragons, Nerf, and Magic: The Gathering, among others. Of course Paramount has Transformers and G.I. Joe's movie rights for now, but the two studios have already teamed up on a several Marvel projects, so it's not inconceivable those properties could be in play.
While much of the focus on this deal will likely go to the properties that can be spun into major action epics, it's worth noting that the deal would also encompass My Little Pony: Friendship is Magic, which has become a surprise hit with twenty-somethings both male and female, not to mention its intended audience of young girls and their moms. While, yes, it is far too soon to say anything for certain, I'm speculating this could be the first step to a cross-demographic appealing My Little Pony feature.
Staff writer at CinemaBlend.
Your Daily Blend of Entertainment News
Thank you for signing up to CinemaBlend. You will receive a verification email shortly.
There was a problem. Please refresh the page and try again.