Unfriended 2 Is Happening, Who Knows What Social Media Horrors Await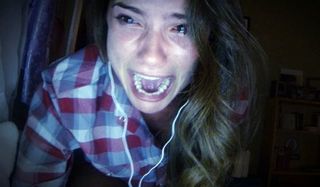 Unfriended is exactly the kind of film studios love. It's a movie that was produced for practically nothing and made millions at the box office. After debuting in U.S. theaters on April 17, the film has earned more than $25 million. So it shouldn't come as a major shocker that Universal has green lit Unfriended 2.
According to Bloody Disgusting, the sequel to Unfriended, which is being hailed by critics as the most creative horror film of the year, is officially in the works. Nelson Greaves, who wrote the script for the first film, is already drafting the treatment for Unfriended 2.
Unfriended was produced by Timur Bekmambetov and directed by Leo Gabriadze. Taking place entirely on a MacBook screen, the film follows six high school friends who receive a Skype message from their deceased classmate, Laura Barns. A year earlier, a video was anonymously posted online, showing her drunk and passed out at a party, and led her to commit suicide. Her ghost returned to seek vengeance on all six of her classmates in an attempt to scare them into revealing who posted the video. The premise sounds a bit juvenile, but the results were widely praised.
Watch the trailer for the film below.
Unfriended marked another successful venture from Blumhouse Productions, which has essentially been the purveyor of micro-budget horror flicks since Paranormal Activity. If Insidious, The Purge, Sinister, and, yes, even Ouija are indications, these folks have pretty much mastered the formula for little cost, big rewards. As they learned through Ouija, which was bashed by critics but still racked up enough money to warrant a sequel, there's a market for horror aimed at teens. Unfriended definitely hit that note with its central cyberbullying subject matter.
It's unclear where a story for Unfriended 2 might go. As Gabriadze and Greaves told Indiewire in an interview, most of the script, such as the chat messages, was actually written in post, while it was suggested that the actors improvise in order to establish genuine reactions. The essence of Unfriended was to film a horror story within the confines of a Skype conversation, which the filmmakers likened to The Blair Witch Project. Taking something fresh like this and trying to replicate its success with the same framing device but a different situation could easily go the cheap route. So far, though, there's no real sign that Unfriended 2 will bomb.
Your Daily Blend of Entertainment News