Vanessa Hudgens Joins Josh Hutcherson In Journey 2: The Mysterious Island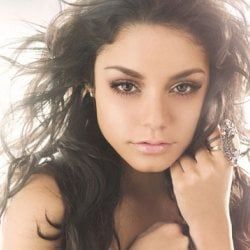 No one who wasn't a tween within the last decade really buys Vanessa Hudgens as a movie star, or a star of any kind-- the actress broke out with High School Musical, became a tabloid fixture by dating Zac Efron, and her only non-HSM credits are the little-seen Bandslam and Beastly, a teen romance that was pushed from its planned release this summer. Still, there's reason to believe this can change-- she'll be part of the ass-kicking ensemble of Zack Snyder's fantasia Sucker Punch next spring, and now THR she'll be joining the kid-friendly but possibly interesting adventure Journey 2: The Mysterious Island.
The movie is a sequel to Journey to the Center of the Earth 3D, with Josh Hutcherson-- who played the kid sidekick the first time-- set to take over as leading man in a new adventure, with Dwayne Johnson on board to lend an adult hand. This time around they venture to the titular island to find Hutcherson's character's long-missing grandfather; Hudgens plays a Pacific Islander brought into the adventure who eventually falls for Hutcherson. Production starts this fall in North Carolina (presumably for the soundstages) and Hawaii (for everything else).
The R-rated Sucker Punch will make for a weird pairing with Mysterious Island, but Hudgens seems to be choosing her roles fairly carefully, and given what a good launchpad the original Journey was for Hutcherson's career, there's no reason it couldn't do the same for her.
Staff Writer at CinemaBlend
Your Daily Blend of Entertainment News
Thank you for signing up to CinemaBlend. You will receive a verification email shortly.
There was a problem. Please refresh the page and try again.