Veronica Mars Movie Photos Tease Drinks & LoVe, Jerry O'Connell, Gaby Hoffman And More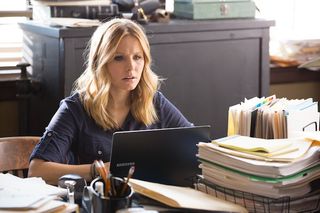 There's nothing quite like the sight of Veronica Mars looking as though she just figured something out. That may be what's going on in one of the recently released stills from the anticipated film, as you can almost hear the sound of the wheels in Ms. Mars' head turning as her eyes stare at the computer screen, while she sits at what might be her father's desk. What has she figured out? Is she about to crack a case? The case? We'll find out in a matter of weeks when the movie hits theaters and Video on Demand!
Following the release of the opening scene, Warner Bros. has released a crop of photos from the film, many of which should serve well to whet fans' appetites for this movie. After all, how long have we waited to see Veronica and Logan back on screen together? Here's Logan and Veronica having drinks:
The photos also glimpse some newcomers to the story, including Jerry O'Connell's "Dan Lamb," who's standing with Enrico Colantoni's Keith Mars and Daran Norris' Cliff McCormack.
Season 3 spoiler chat in the next paragraph!
I'm going to assume that Dan Lamb must be related to the dearly departed former sheriff Don Lamb. Original Lamb's exit in the third season of the series is one of the things I liked least about Season 3. In fact, I didn't like it so much that if Rob Thomas had decided to miraculously revive the character just to bring Michael Muhney back for the movie and pretend like Lamb never died, I would've probably been willing to turn a blind eye to the glaring continuity error or accept some ridiculous faked-his-own-death explanation involving gambling debts or something. Unlikable as he was, Lamb was a character I always expected to get to know better at some point, so his death felt shocking, and unfortunately, not in a meaningful way. More like in an "I smell bread" kind of way. At the very least, perhaps Jerry O'Connell's character will fill in some more blanks about Don. Or maybe he's just the stand-in cocky sheriff guy, which would also be fine. Because would any of us have trouble imagining Don Lamb's brother/cousin/whoever as Trip McNealy?
End Season 3 spoiler chat.
Next up, we have the barely recognizable Gaby Hoffman as "Ruby Jetson," a new character to the story, sitting between Jason Dohring and Kristen Bell...
You can view the rest of the images in the gallery below. Veronica Mars arrives in select theaters and Video On Demand on March 14.
Image 1 of 19
Image 2 of 19
Image 3 of 19
Image 4 of 19
Image 5 of 19
Image 6 of 19
Image 7 of 19
Image 8 of 19
Image 9 of 19
Image 10 of 19
Image 11 of 19
Image 12 of 19
Image 13 of 19
Image 14 of 19
Image 15 of 19
Image 16 of 19
Image 17 of 19
Image 18 of 19
Image 19 of 19
Your Daily Blend of Entertainment News
Thank you for signing up to CinemaBlend. You will receive a verification email shortly.
There was a problem. Please refresh the page and try again.