Video: 5 Clips From Ghost Town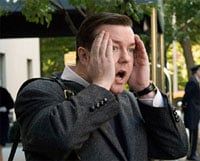 I'm worried about Ghost Town. The guy is a genius. But Ghost Town looks like a big, vapid, Hollywood movie. Exactly the sort of thing he usually makes fun of. It looks as if it's the equivalent of the funny wig and glasses TV series he starred in and mocked in Extras. That's not good.
I don't want to believe that Ricky Gervais is a sellout, so I went looking for more clips of the movie, and found these. They haven't helped. They're all over the map. There's a great clip in the mix below in which Gervais awkwardly argues with the nurse trying to check him into the hospital. It's hilarious, and vintage Gervais. Then there's the rest of the footage, which has Greg Kinnear and under-talented SNL alums spouting standard, Hollywood ghost comedy dialogue. It just feels all wrong. It doesn't look like a Ricky Gervais movie, it looks like a movie that could literally have starred just about anyone, from Reese Witherspoon to Ben Stiller. I hope I'm wrong. Ghost Town needs to be good if the world is ever going to catch on to the brilliant of Ricky Gervais.
Watch all 5 of our clips from Ghost Town below:
Your Daily Blend of Entertainment News
Thank you for signing up to CinemaBlend. You will receive a verification email shortly.
There was a problem. Please refresh the page and try again.