Video: 6 Revolutionary Road Clips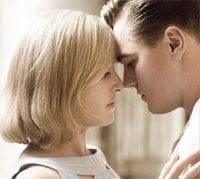 As if to redeem themselves for blockbustering unrealistic romance in Titanic, Kate Winslet and Leonardo DiCaprio have reteamed to play a more realistic couple. In Revolutionary Road they talk they engage in the sorts of conversations that real married couples often get into.
Below we have six new clips from Revolutionary Road, composed mostly of Leo and Kate in kitchens and living rooms wearing bathrobes or lounging on beaches doing nothing and talking and arguing about their future, their lives, and where they're going next. I'm pretty sure I had at least one of these conversations with my wife just last week. Maybe this is too real. Take a look:
Your Daily Blend of Entertainment News
Thank you for signing up to CinemaBlend. You will receive a verification email shortly.
There was a problem. Please refresh the page and try again.