Video Interview: Beware The Gonzo's Ezra Miller and Zoe Kravitz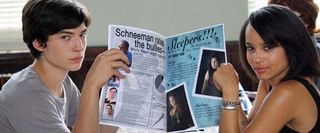 It's been just over a year since Beware the Gonzo charmed audiences at the Tribeca Film Festival and it's no wonder that both Ezra Miller and Zoë Kravitz have been busy ever since. In the movie Miller stars as Gonzo, a high school kid with some intense ambitions. When the school golden boy, Riley (Jesse McCartney), uses his power as the paper's editor-in-chief to stifle Gonzo's creativity and zest, Gonzo opts to start his own paper, one outside the school's jurisdiction (to a point): The Gonzo Files. Also with a vendetta against Riley, Kravitz's character, Evie, opts to join the ranks of The Gonzo Files and fight back by doing whatever it takes to bring the student body the truth.
After speaking with Miller and Kravitz, it's quite clear as to why director Bryan Goluboff added them to his roster; they're both incredibly passionate and are willing to fight for what they want. We talked about Beware the Gonzo quite a bit, but the conversation also trailed off into real-life territory and their struggle trying to make it in a business with a preference for casting 20-somethings as high school teens. From my standpoint, Miller and Kravitz appear to have thriving careers, but both admit to have experienced some troubling times along the way and, quite naturally, concern for the future.
At the same time, these are two very fun-loving people we're talking about and the giggles were abound in this interview. To level the playing field, I opted to leave in a little cell phone oops on my part, as I'm hoping you'll get as good of a laugh out of it as we did. Check it all out for yourself in the video interview below and be sure to catch Beware the Gonzo when it hits theaters on September 9th.
Staff Writer for CinemaBlend.
Your Daily Blend of Entertainment News
Thank you for signing up to CinemaBlend. You will receive a verification email shortly.
There was a problem. Please refresh the page and try again.