Vin Diesel Is Holding Out For A Villain Role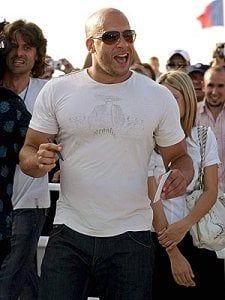 I liked Vin Diesel in Iron Giant, Boiler Room, and Saving Private Ryan and while his last ten movies haven't been very interesting to me, I wish him nothing but the best. I do have to say that I haven't been exactly on pins and needles wondering if he'll ever do a superhero movie like some people. Fortunately, even though I haven't asked the question, Vin has an answer.
During an interview with MTV, Diesel was asked why he hadn't ever played a comic book hero in a movie. The question noted that Diesel had twice been close to getting roles that ultimately went to others, Daredevil and Hellboy, and is a long time comic book fan himself. Vin said it's because he wants to play the bad guy. He notes, "I am waiting to do a film where the protagonist is the villain. I'm kind of done with the Marvel hero. What would be exciting to me - and nobody has come to me with this yet - is a film about a villain that we're familiar with in Marvel and showing [his] complexities." That's actually not a bad idea, although I'm not sure Diesel would be my first (or eighteenth) choice to play such a character.
Diesel also says he has a character in mind, but he's not giving out any details. "I have one in mind, but I must keep it close to the vest." No telling who might grab this idea and run with it. Diesel put out another reason why he hasn't taken on an established comic book hero yet. He said, "I've been lucky enough to create these characters onscreen. [I'm] the Stan Lee of film, so to speak." I'm not sure Diesel = Lee is an equation that computes in the known world. Still, look for Vin to be the villain at some unknown point in the future.
Your Daily Blend of Entertainment News