Vince Vaughn Could Reteam With Delivery Man Director On Business Trip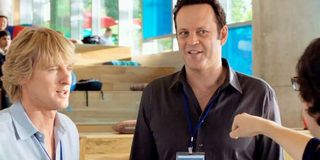 Canadian writer-director Ken Scott is set to make his American movie debut this fall with the Vince Vaughn vehicle Delivery Man. And already this pair is primed to reteam. Deadline reports Scott has entered into talks with New Regency to helm the Vaughn-fronted Business Trip. Though the comedy's logline is currently being kept secret (we assume it will involve travel and business of some kind), we do know the script has been written by Steve Conrad, who has penned screenplays like The Weather Man, The Pursuit of Happyness, and The Promotion.
Business Trip is expected to go into production this fall. So, we expect this deal will be sealed in short order. Soon thereafter, further casting announcements should follow.
Scott first drew notice with his acclaimed French-Canadian comedy Starbuck, which is the source material for DreamWork's Delivery Man. Transferred from Quebec to Brooklyn, New York, this English-language remake stars Vaughn as the titular manchild who finds himself forced to grow up (fast and at long last) when his girlfriend (Cobie Smulders) becomes pregnant…and when the hundreds of children spawned from his prolific stint as a sperm donor seek to meet their biological father.
Starbuck recently opened in limited release in the US, and has been winning further praise. With a cast that includes not only Vaughn and Smulders but also Parks and Recreation's Chris Pratt, Cash Cab's Ben Bailey, and Saturday Night Live's Bobby Moynihan, we suspect the American version will receive its fair share of cheers too. In the meantime, look for Vaughn opposite Owen Wilson in another daffy comedy, The Internship.
Staff writer at CinemaBlend.
Your Daily Blend of Entertainment News
Thank you for signing up to CinemaBlend. You will receive a verification email shortly.
There was a problem. Please refresh the page and try again.