Wahlberg Deals Drugs For Peter Berg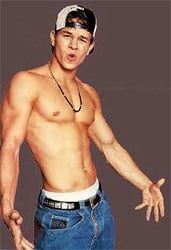 Frequent listeners to our podcast know that I'm still not completely sold on Mark Wahlberg as a dramatic actor. I've always considered him more of an up-and-coming action star, thanks to movies like last year's Shooter. Well, my doubts are rapidly going to either be erased or solidified, as Wahlberg keeps adding more dramatic work to his portfolio.
Variety reports that Wahlberg has been placed in the lead of Peter Berg's upcoming biopic about international drug dealer Jon Roberts. Wahlberg will play the drug dealer, who shifted from life as a decorated Vietnam soldier to a drug dealer who distributed cocaine worth billions and wound up serving a ten year prison sentence after being turned in by a friend.
The movie currently has no title (can I suggest 'Berg by Berg?), and also has no writer due to the current strike, so it'll be a while before this project gets off the ground. In the meantime, Wahlberg is working on The Lovely Bones with Peter Jackson and The Happening with Shyamalan will hit theaters later this year. Not bad for a former underwear model.
Your Daily Blend of Entertainment News