The Walking Dead's Steven Yeun Joins An Indie Action Thriller That Sounds So Badass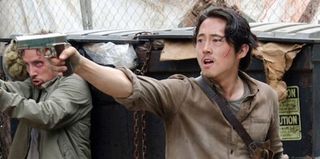 As one of the cast members on AMC's mega hit zombie drama The Walking Dead, Steven Yeun has demonstrated a wide variety of badass survival skills. You don't last as long as he has after the apocalypse without knowing how to handle yourself when things get hairy. As it turns out, all of that practice may come in handy in another role, as Yeun has signed on to front the indie action flick Mayhem, which sounds super kick ass.
According to The Hollywood Reporter, Steven Yeun has joined the cast of director Joe Lynch's Mayhem and will lead the movie along side of Australian actress Samara Weaving, who is the niece of The Matrix villain Hugo Weaving, and who will also head up McG's upcoming horror flick The Babysitter. What we know of the story of Mayhem sounds like it could be right up Yeun's alley.
Working from a script by Matias Caruso, Mayhem revolves around a virus that makes people act out their own wildest impulses. While maybe turning the dead into flesh-hungry walking corpses, that's at least within Steven Yeun's wheelhouse. This plague just so happens to hit a high-powered corporate law office the very day that a vindictive coworker frames Derek Sanders (Yeun) for something he didn't do, and he gets fired for this false accusation. As if that didn't suck enough, he's trapped in a quarantined building and has to fight for his job, survival, and escape. We've all had our fair share of crappy days at work, but that sounds like a doozy.
Mayhem also promises to be one hell of an action movie. Joe Lynch is the director behind 2014's Everly, which starred Salma Hayek and was a kind of contained riff on the Die Hard, trapped-in-a-single-building conceit that kicked a lot of ass. Lynch called the mixture of horror, science fiction, action, and satire in Matias Caruso's script "a deliciously dangerous and exciting cinematic smoothie ... with a hell of a kick." Yeah, sign me up because that sounds badass.
While Steven Yeun has become recognizable thanks to his role as Glenn Rhee on AMC's The Walking Dead, this will be his biggest role and highest profile job to date. He's had a handful of smaller appearances in movies like the indie sci-fi feature I Origins, but nothing quite on this level yet. And he has a lot of charisma, which is why his character on The Walking Dead is so popular, and it will be nice to see that at the front of a movie.
Mayhem is scheduled to begin filming in Serbia later this month and will likely be released in some form in 2017.
Your Daily Blend of Entertainment News