War Movie HHHH Adds A Slew Of Great Actors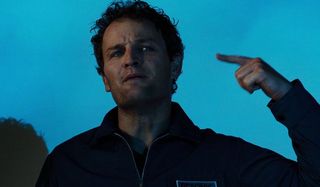 While there's certainly no shortage of dramas set during the Second World War, the upcoming thriller HHHH looks to break the mold in a genre that's had more than its share of entries. Reportedly taking a nuanced, character-centric approach, the film features an impressive cast, looking to bring this historic tale of an elaborate assassination mission to the big screen.
According to a report from Variety, the biographical World War II drama, HHHH, based on the novel of the same name by Laurent Binet, will see the addition of a primary cast that mixes established commodities along with up-coming names that already makes the film sound promising. Let's take a look at the lineup.
Jason Clarke as "Reinhard Heydrich"
The rapid, post-Zero Dark Thirty rise of Clarke, which yielded a starring role in last year's Dawn of the Planet of the Apes and will see a major big-budget action role in this summer's Terminator: Genisys, will take an intriguing turn with HHHH. Clarke plays Heydrich, a high ranking Nazi official who worked closely with the architect of atrocities, Heinrich Himmler, and is actually the film's titular character. The title references an acronym for what Germans called him, "Himmlers Hirn heisst Heydrich," meaning "Himmler's brain is called Heydrich."
The first chapter of the film essentially depicts Clarke's Heydrich as a protagonist, focusing on his rise to prominence in the Nazi party in a way that producer Alain Goldman refers to as "intimately and professionally" as he descends to a dark place.
Rosamund Pike as "Lina Heydrich"
Settling comfortably into what seems to be a post-Gone Girl typecasting as a manipulative maker of machinations, Pike plays Lina Heydrich, Reinhard's wife. She is described as an aristocratic type of character, constantly looking to improve their social standing, who, like a race-obsessed Lady Macbeth, apparently introduces the Nazi ideology to Reinhard, setting him on his repugnant course depicted in the film's second half.
Jack O'Connell as "Jan Kubis" and Jack Reynor as "Josef Gabcik"
In exploring a duality in human nature with Heydrich's story, the focus shifts in the second chapter of the film to two operatives of the Czechoslovakian resistance who are tasked with assassinating him in 1942. O'Connell (pictured left), formerly of U.K. TV's Skins, turned some heads with his role in last year's World War II Pacific theater prisoner drama, Unbroken, as well as '71.
Reynor (pictured right) is coming off a prominent role amongst giant robots and explosions in last year's Transformers: Age of Extinction. For the Colorado native, this role as Gabcik will see him, along with the Brit, O'Connell, as two would-be Slovak paratrooper assassins tasked with making Heydrich their quarry in what potentially could be exciting, action-packed sequences.
Mia Wasikowska as "Czech Resistance Fighter"
Finally, we have the addition of Wasikowska, the elegant actress probably still best known from her starring turn in Tim Burton's 2010 rendition of Alice in Wonderland. She plays a yet-to-be-named girl living in Nazi-occupied Prague who operates as part of the resistance on behalf of the country's driven-underground government. Most likely she will be involved with the dynamic duo of O'Connell and Reynor.
HHHH is co-written and will be helmed by Cédric Jimenez, whose resume contains a few films in France, but is a bit otherwise thin at the moment. However, with filming set to begin in Prague and Budapest in August, with this tremendous cast and a seemingly inventive take on the WWII genre, it could ultimately be a name-making vehicle for Jimenez.
Your Daily Blend of Entertainment News
Thank you for signing up to CinemaBlend. You will receive a verification email shortly.
There was a problem. Please refresh the page and try again.