Rosamund Pike Will Return For Gone Girl 2 If This Person Does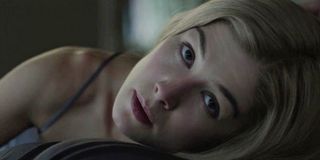 Rosamund Pike has experienced somewhat of a career renaissance thanks to her devilishly good performance opposite Ben Affleck in David Fincher's rather magnificent, Gone Girl. The English actress has now admitted that she'd be up for returning for a sequel to the film too, but only if the novel and film's writer, Gillian Flynn, joins her.
Now I'm going to have to add a SPOILER WARNING here because what's said would ruin the entire film if you haven't seen it (or read the book). So if you haven't seen Gone Girl yet you really shouldn't read ahead. You have been warned.
Rosamund Pike at first told Variety, after being asked whether she'd consider a Gone Girl sequel, "No, no, no," but then she clearly started to warm to the idea as she then noted, "Only if Gillian [Flynn] wrote it. I don't like the idea of someone coming in and saying I could get my hand on these characters. The filmmakers don't even want people to know Amy is even alive at the end. People have been good about." Told you she spoilt it.
I'm guessing that the people left here now have either seen Gone Girl or are currently crying into their keyboards because its conclusion has now been ruined. No matter which category you fall into I think we can all agree that Gone Girl 2 would be a terrible idea. The decadent poetic thriller about the disintegration of Rosamund Pike and Ben Affleck's marriage was a tremendous indictment of the 24-hour news cycle wrapped in an absurd murder-mystery. It is almost certainly going to stand the test of time as a solo entity. Returning to the characters would almost immediately ruin what made Gone Girl so good in the first place. At the end, Amy and Nick are now stuck in their marriage because of the mountain of lies that they told to each other, and the fact that she's pregnant with his child means that there is simply no way out for him.
A Gone Girl spin-off movie that revolves around Tyler Perry's charismatic attorney, Tanner Bolt, is something that everyone who has seen the film can get behind though. Maybe Perry can even convince Fincher to join him for the film. The fact that he now knows who the legendary director is should at least help him get the filmmaker on board. Most viewers went into Gone Girl thinking that Perry would struggle to make an impression against the likes of Ben Affleck, Rosamund Pike, Carrie Coon, Kim Dickens, and Patrick Fugit, but instead he stole the show as the brash, knowledgeable lawyer who knew exactly how to play the publicity game. Arguably, he might even deserve an Oscar-nomination for his efforts too. In all fairness though, Perry didn't have to do too much because you can't help but fall in love with a character called Tanner Bolt. Which is now one of the greatest names to ever be committed to celluloid.
Your Daily Blend of Entertainment News