Warner Bros. And Joel Silver Planning A Don Quixote Adventure Movie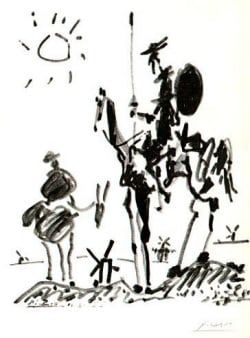 The news coming from Pajiba today is technically about Joel Silver and Warner Bros. and their plans to make an adventure movie based on Don Quixote, but all I can think about is poor, poor Terry Gilliam. The constantly plagued filmmaker seemed to finally be on the verge of making his own Don Quixote, with Robert Duvall on board to play the titular man from La Mancha, and Ewan McGregor recently signing on to play the role that originally went to Johnny Depp in the first attempt at making this movie a decade ago.
The news that Warner Bros. is eyeing the same material and trying to make a Pirates of the Caribbean-style swashbuckling adventure out of it doesn't guarantee that Gilliam's project will fail, but it sure can't help. The two projects are likely to be utterly different in style and tone, and hey, Gilliam hasn't been deterred by all the other disasters that have befallen this project so far. But still, way to kick a man when he's down, Joel Silver.
Apparently the idea behind the big Warner Bros. version will be that Don Quixote isn't crazy, he really is a knight and the windmills really are ferocious giants. This of course removes the entire sad and meaningful section of the story, but that probably won't bother you if they throw enough explosions on the screen.
Your Daily Blend of Entertainment News
Staff Writer at CinemaBlend