Warner Bros. Puts The Brakes On Arthur & Lancelot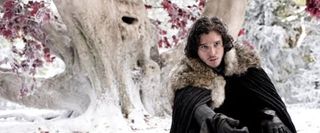 Man, it is not a good week to be a high-budget Warner Bros. project. Yesterday Legendary Pictures slammed the brakes on their big-screen adaptation of Milton's Paradise Lost. That's bad news for star Bradley Cooper, who bailed out of the Crow reboot to avoid a scheduling conflict with Paradise (not to mention all the junior high students who were hoping for a new alternative to reading the book). Now another film under Warners' banner has hit a budgetary roadblock. Deadline reports that WB has halted Arthur & Lancelot, their new retelling of the King Arthur legend, and says that the movie won't get made at all unless they can rein in the budget.
Arthur & Lancelot is set to star Kit Harrington (Game of Thrones) and Joel Kinnaman (The Killing) and was based on a script by David Dobkin. Warners was obviously excited about the project, as they paid $2 million for Dobkin's spec script last July, and fast-tracked the project with a targeted March 15th, 2013 release date. The film even got a theoretical edge a few months back when a competing Arthur project, Bryan Singer's Excalibur remake, was declared D.O.A. The report says that Warner Bros. is going as far as to let Dobkin shop the project to other studios.
Unfortunately, with declining box office numbers in general and without a proven star in either of the lead roles, Warners is understandably hesitant to let Arthur & Lancelot's budget spiral too high. According to Deadline, that budget started out around $90 million and had already swollen to possibly as high as $130 million. That's kind of staggering given that Legendary's Paradise Lost was halted because its budget had reached $120 million. You're seriously telling me that a sprawling supernatural epic involving angel-on-demon warfare was going to cost less than yet another retelling of King Arthur's story? Were the sets going to be made out of solid gold?
Your Daily Blend of Entertainment News
Thank you for signing up to CinemaBlend. You will receive a verification email shortly.
There was a problem. Please refresh the page and try again.