Bryan Singer's Excalibur Remake Is Dead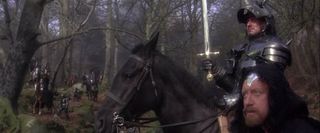 We've been tracking Bryan Singer's new version of the classic 1981 Arthurian epic Excalibur for several years now. While we need another remake like we need a hole in the head, at least Singer might have been able to bring something new or interesting to a tale that's been told a thousand times. Now, however, it seems that fate has found the director unable to draw the sword from the stone. At the Sitges Film Festival, Singer revealed to SFX that his Excalibur project has been shelved, the victim of a busy schedule and a competing project:
He doesn't specify which competing Arthur project derailed Excalibur, but given the timing, it could well be this version from Warner Bros. and The Change-Up director David Dobkin. The good news that comes out of this (assuming you wanted a Singer Excalibur remake in the first place) is that the death of Excalibur has freed Singer up to begin work on his big-screen Battlestar Galactica, which he's been talking about just about as long as he did Excalibur.
Directed by John Boorman and starring Nigel Terry, Helen Mirren, and Nicol Williamson, Excalibur is the definitive version of Arthurian legend for many of us who grew up in the '80s, a dark and bloody affair that has often been imitated but never equaled in the years since. Maybe this is a good thing. At this point, we've seen the story of King Arthur told just about every way it can be. If we're going to sit through yet another retelling, let's wait until somebody comes up with a brilliant new spin on the legend rather than just remaking the already-good ones.
Stay tuned to Cinema Blend for news on all things Singer.
Your Daily Blend of Entertainment News
Thank you for signing up to CinemaBlend. You will receive a verification email shortly.
There was a problem. Please refresh the page and try again.