Warrior's Gavin O'Connor Steps In For Absent Lynne Ramsay On Jane Got A Gun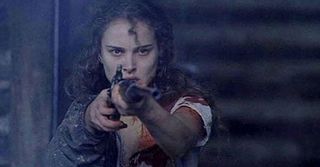 Monday was meant to be the start date for production on the already anticipated Western Jane Got a Gun. With a cast that boasts Natalie Portman, Joel Edgerton, and Jude Law, and an acclaimed director in Lynne Ramsay (We Need to Talk About Kevin), this indie effort seemed destined for major attention. Tuesday this proved true, but in a way no one hoped for or anticipated when Ramsay failed to report to the first day of shooting. She'd abruptly walked off the project, leaving a cast and crew of 150 in Sante Fe, New Mexico without a director.
Amid fuming and threatening legal recrimination, the film's producers, which include Scott Steindorff, Aleen Keshishian, and lead Natalie Portman, scrambled to find a replacement to prevent the independent effort from falling apart. Deadline reports they are closing a deal with their replacement/project savior, Gavin O'Connor, best known for writing and directing the 2011 MMA drama Warrior, which notably also starred Edgerton. Once O'Connor signs on officially, production is expected to pick up tomorrow.
This whole story is incredible. For one thing, it seems pretty unprofessional of Ramsay, after nine months of development on the film, to walk off on the project on such short notice and at such a critical time. It's a move that could have killed the movie's chances of being made. Industry press is struggling to think of a worst first day of production, comparing Ramsay's departure to jilting someone at the altar.
Making things even more bizarre, Ramsay has so far stayed silent about her reasons for abandoning Jane Got a Gun, though Steindorff was quick to release a statement decrying her actions. As an admirer of her work, I'm trying to stay open-minded about this event. But as a devoted movie lover, I'm mortified by Ramsay's seemingly reckless behavior following what is rumored to have been a contentious weekend between herself and the feature's producers.
Your Daily Blend of Entertainment News
Staff writer at CinemaBlend.